Posted on
Fri, Feb 26, 2010 : 3 p.m.
New Ann Arbor school promises students environment of freedom, democracy
By Erica Hobbs
Teacher Melissa Palma says she believes students learn best when they have a passion for the subject in an environment of support and autonomy.
That's why Palma, husband Rodolfo Palma and a group of organizers are starting the Little Lake Free School in the Ann Arbor area this fall.
"The unique thing about this school is that it produces kids who are going to be able to say, 'I'm interested in this and I know how to learn about it,'" she said. "They'll be life-long learners in a really different way."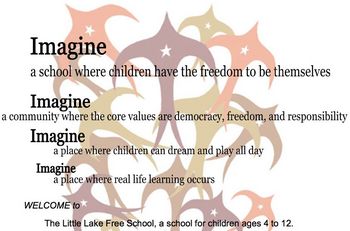 The organizers will hold their first recruiting and informational session at 2 p.m. Sunday in the downtown branch of the Ann Arbor District Library at 343 S. Fifth Ave. in Ann Arbor.
Partially based off the Albany Free School in New York, Little Lake Free School will be built on principles of community, democracy and responsibility where children, under the guidance of close-knit adults, are free to make their own choices on what and when to study.
"With freedom comes social responsibility," Rodolfo Palma said. "The idea is really that the children are as free as possible."
Melissa Palma, whose own 4- and 6-year-old children will be enrolled at the school, said creating a free school has been her dream for the past 10 years.
"As a parent and as a teacher, I wanted to create something that was more inclusive of all of the different voices and more participatory so people can have more of a say in their children's education," she said. "I think that the way that the school systems are set up right now, there's very little democracy and very little voice that people can have over their education."
Though they don't yet have a building for the school, organizers plan to accept 15 students between the ages 4 and 12 who will be taught by two staff members, including Melissa Palma, and other adult volunteers and parents.
Rodolfo Palma said students will come to school every morning with options on what they would like to learn that day, including the choice to do nothing at all.
"Usually the first month or first few weeks, students choose not to participate, then get bored and choose to learn and get excited," he said. "They get excited about what they really want to be doing."
While Melissa Palma and fellow staffer Matt Erickson are certified teachers, students will also have the options to learn about non-traditional school subjects such as woodworking and origami, depending on the skills and talents offered by the adult volunteers.
When it comes to state benchmarks and requirements, the Palmas said their students will learn the basics - but on their own stride.
"Kids are going to learn to read and write and do math, but it might be at their own pace," Melissa Palma said.
Having a small class size of students within an eight-year age range won't be a problem, the Palmas said.
"We believe that having all those ages can be a real benefit because it forces the school to deal with the fact that people are all on different levels," Rodolfo Palma said. "It's really rare to have a community where everyone is exactly the same. The goal is to have them work together."
Tuition for the school will be $6,600 per year, but may be reduced through parent volunteering. The Palmas said they hope to have a diverse group of students, including low-income children, and are considering offering scholarships or a sliding scale tuition to qualified families.
Erica Hobbs can be reached at ericahobbs@annarbor.com.