With poll:

Safety and fire concerns: New Michigan fireworks law sparks statewide debate

Posted on Tue, Jul 3, 2012 : 5:57 a.m.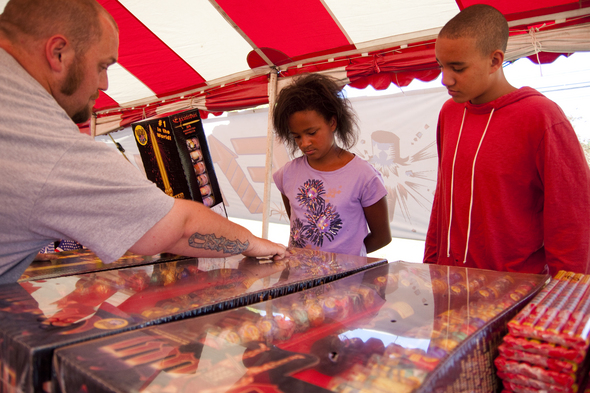 Jeffrey Smith | AnnArbor.com
Business may be booming for fireworks dealers because of a new state law allowing previously illegal "aerial" explosives like bottle rockets, but some residents aren't exactly cheering.
Communities across the state are taking aim at the law because of such safety and noise concerns. In West Michigan, Walker, Hudsonville, Rockford, Kentwood and Grand Rapids have all restricted the use of consumer fireworks in some capacity. The city of Warren in suburban Detroit also recently challenged the law.
For a long time, it was a Michigan tradition to drive down to Indiana or Ohio to buy fireworks for Fourth of July celebrations. Now, firework enthusiasts can get Roman candles, bottle rockets, firecrackers and sky lanterns at the firework tents that pop up every year in parking lots across the state.
This means increased business for the fireworks dealer, but increased concern for the fire agencies, which are called when things go wrong.
The change in state law started last December, when Gov. Rick Snyder signed legislation allowing what is referred to as "consumer fireworks." The law took effect Jan. 1, 2012.
The state is expected to make money off not only increased sales tax from exploding sales, but also the $600 fee non-permanent retail operations - like a tent in a parking lot - and the $1,000 fee permanent retail operations have to pay to be certified to sell the consumer fireworks.
Rich Miller, fire marshal for the state of Michigan, told AnnArbor.com that since this is the first year the previously illegal fireworks will be sold, it's very difficult to estimate how much money will be generated, though some are guessing it might be as much as $10 million.
Statewide, 960 permits were sought, Miller said. According to the Department of Licensing and Regulatory Affairs, 696 outfits are registered to legally sell the fireworks. Many of those who didn't get the permits just didn't follow up on the paperwork, said Miller.
In Washtenaw County, there have been 10 permits issued, four in Ann Arbor, four in Ypsilanti Township and two in Saline. Find out where they are located on the LARA website.
Other stipulations in the law mandate that people must be 18 years old to buy consumer fireworks and that they not be sold near gas stations. Retailers have to be inspected by a state-certified state fire marshal, as well.
Despite it being the first year, Miller said, "The process is pretty good right out of the gate,"
Jeffrey Smith | AnnArbor.com
BUSINESS BOOM
One of the four permits in Ann Arbor was issued to Rudy Rodriguez, who has set up shop in The Quarter Bistro and Tavern's parking lot off South Maple Road just south of Jackson Avenue for the past 10 years.
In the parking lot, boxes of fireworks are stacked on cafeteria tables shaded by a circus-like red and white tent. Rodriguez estimates that 99 percent of his inventory would have been illegal to sell in Michigan last year.
Rodriguez, who owns Nonstop Fireworks, has been in the business for 20 years. He has tents in Adrian, Battle Creek and Brooklyn.
It's no surprise that, since he stands to profit from the law, Rodriguez welcomed it with open arms.
"It's been great. It's been wonderful for everybody," he said.
When asked about his profits this year compared with last year, Rodriguez declined to estimate in percentages by how much more he was taking in, though he did admit that it's "quite a bit higher."
"Things are a lot better," he said. "We're way ahead of schedule. We're selling a lot more this early in the game than what we normally do."
More money equals more competition, though. Just down the street from the Nonstop Firework's tent are two retailers in similar tents Rodriguez said haven't been there in years past.
One is Jake's, a national chain. It was being manned Tuesday afternoon by Nate Wegryn, who said this was his first year selling fireworks.
"There's kind of a craze around here," Wegreyn said about the newly legal fireworks.
Sales representatives Mary Clifford-Hammond and Rachel Camper at the BIG Fireworks' tent a few hundred feet away from Jake's said the customers they've dealt with are glad to be able to get the aerial type of fireworks here in Michigan.
"It's better than going down to Ohio and bringing them back," said Camper.
The customers milling about the tents Tuesday seemed to agree. Quinn Smith, of Ann Arbor, already has purchased some previously illegal fireworks, but was looking for more at Jake's. When Smith moved to Michigan from upstate New York two years ago, he was dismayed to see that the more explosive types of fireworks were illegal.
"I think it's great," he said about the law. "Let people celebrate the Fourth of July and have fun."
Richard Ott, of Ann Arbor, was at Rodriguez's tent buying fountains, which were legal before the change in the law and are now considered "low-impact fireworks."
"When you have a 1-year-old and a 5-year-old, you can't exactly play with firecrackers yet," he said.
Still, Ott was glad to see the change in the law.
"I remember growing up, being in Ann Arbor, we just drove down to Ohio and bought firecrackers and bottle rockets," he said. "I've been playing with fireworks since I was a kid. Just don't be dumb and blow yourself up."
'MISGUIDED MISSILES'
Every year, fire officials warn the public to be safe around fireworks. This year, not only because of the newly legal fireworks but also the very dry conditions, those warnings are a little more stern.
Ypsilanti Fire Chief Jon Ischesco calls aerial fireworks "misguided missiles."
"They have more power," he said. "You could … lose a hand. Keep your garden hose handy. I could really see this being a big problem. This first year is going to be somewhat tenuous."
Ischesco said he thinks there will be more injuries, more fires and more people ending up in court for fireworks.
Pittsfield Township Fire Chief Sean Gleason pointed out that people have been using smuggled Roman candles and bottle rockets in Michigan for years, but agreed consumer fireworks could pose additional problems.
"It creates more of a danger of people getting hurt and property getting damaged," he said.
The Ypsilanti Township Fire Department is handing out safety brochures as the Fourth of July approaches, said Fire Marshal Vic Chevrette .
"Hopefully people will read them," he said. "It basically tells people to use common sense."
Saline Fire Chief Craig Hoeft said extremely dry conditions also are of major concern.
"It's pretty dry," he said. "In the country, it will be that much worse. I would suggest to people to call their fire and police departments and ask questions."