Posted on
Tue, Feb 14, 2012 : 5:58 a.m.
New statistics show crime in Ann Arbor may be at lowest levels in a decade
By Ryan J. Stanton
Ann Arbor
may have experienced its lowest level of crime in a decade in 2011, according to new statistics released by Police Chief
Barnett Jones
.
"As you can see, we live in a great community," Jones told members of the Ann Arbor City Council during a special working session Monday night.
Jones offered a year-end review of crime statistics, showing the Ann Arbor Police Department logged 2,758 incidents in the eight major categories tracked by the FBI.
That's down 15 percent from the year before, and down 27 percent from a decade ago, according to the department's own statistics.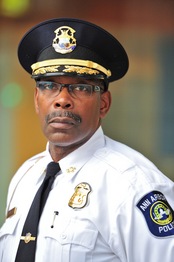 Ryan J. Stanton | AnnArbor.com
The department reported handling 126 aggravated assaults, 10 arsons, 545 breaking and enterings, 1,883 larcenies, 94 vehicle thefts and 58 robberies — all of which were lows for the last decade, according to the department's own statistics.
While all other major crimes are trending downward, Jones said he found it perplexing that rapes are trending upward.
There were 42 rapes reported last year. That's down slightly from the year before, but nearly double from a decade ago.
Jones speculated that more women are getting over their fear of reporting rapes with community organizations like SafeHouse making them feel comfortable coming forward.
There were no murders reported in 2011. The only murder in Ann Arbor in the last seven years happened in 2009. Before that, there were eight murders between 2002 and 2004.
Jones stressed that the city's numbers are unofficial. They have yet to be verified and are not reconciled with cases handled by the University of Michigan's police officers.
The city's crime numbers for the past decade differ slightly from the totals reported annually in the FBI's official Uniform Crime Reports. In some cases, the city's numbers are higher than the FBI's totals, which include crimes reported by both the city and U-M.
Explaining why the city's numbers might be higher, Jones said sometimes crimes are reported and later it's determined they didn't actually happen.
The FBI's annual report for 2011 is not yet available.
Much attention was placed on the city's crime statistics last summer following a series of high-profile attacks on women in and around downtown Ann Arbor.
"Communities are judged all over this country by those major categories of Part I crimes," Jones said. "I wish that every year we would report those as zero, but that's never going to occur, so we deal with the crime stats that we incur over the course of the year."
Jones said he doesn't think the fact that significantly fewer officers are employed by the city has anything to do with the declining number of crimes being reported.
Ryan J. Stanton covers government and politics for AnnArbor.com. Reach him at ryanstanton@annarbor.com or 734-623-2529. You also can follow him on Twitter or subscribe to AnnArbor.com's email newsletters.