New survey asks citizens for feedback on Ann Arbor's development review process
Posted on Wed, Jan 2, 2013 : 5:57 a.m.
When it comes to potential new developments in Ann Arbor, the city's citizen participation ordinance is intended to get residents involved in the planning process from the get-go.
Even before plans are submitted to the city.
Is it working, though?
That's the question at the heart of a survey the city's planning department is asking residents to take between now and Jan. 18.
To take the survey, go to https://www.surveymonkey.com/s/MSTVDR7.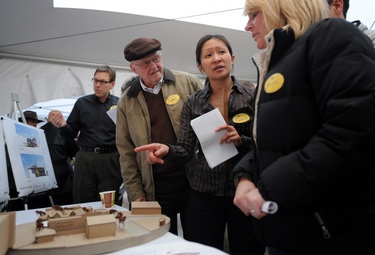 Melanie Maxwell | AnnArbor.com
The ordinance adopted by the City Council in September 2008 requires developers to provide written notice to the public and to hold a public meeting with neighbors prior to submitting planned projects, planned unit developments, rezonings and major site plans to the city for review.
It also requires developers to provide a written report to the city summarizing the meetings and the input received from the public. Those reports are then made public.
Wendy Rampson, the city's planning manager, said the requirements are meant to give citizens more opportunities to be involved in the development of their neighborhood and community.
The city's planning staff created the new survey to determine if the process is helping achieve the intended goals. Rampson said it should take about 5 to 10 minutes to complete.
Participation in the survey, she said, will help ensure citizens are well informed of potential projects and are given the opportunity to have their voices heard throughout the review process.
The survey allows those who are interested to sign up to participate in a follow-up focus group with city staff and citizens to evaluate the citizen participation ordinance requirements.
The resolution directing the creation of the ordinance in 2008 was sponsored by Council Members Sabra Briere and Stephen Kunselman and now-former Council Member Joan Lowenstein.
Kunselman, D-3rd Ward, said the ordinance seems to be helping promote engagement between developers and the community.
Briere, D-1st Ward, who served on the committee that put the draft ordinance language together, said it's much easier now to try to be involved in the development review process from the beginning. She thinks developers and citizens are able to benefit from the early opportunity to amend plans, but in her opinion, not all seem to take the opportunity seriously.
"But what I've been looking at is the end result, not the process," she said. "Do people feel they've influenced the outcome? Do developers believe the process encourages a better result? Are we doing this for show, or does the outcome really change?"
Briere said those are the important questions and she can't answer them yet. She said she expects to be involved in the upcoming review of the ordinance.