Posted on
Tue, May 8, 2012 : 5:59 a.m.
New task force will develop vision for connecting North Main Street and Huron River
By Ryan J. Stanton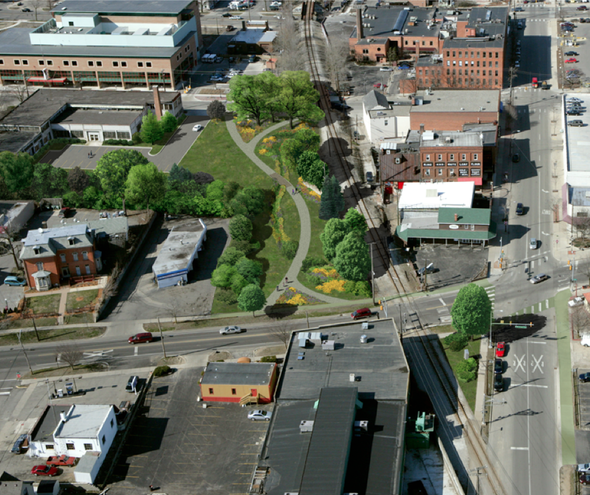 Ann Arbor officials are
zeroing in on 721 N. Main
as the first place the city might transform a blighted city-owned property into a greenway anchor park.
Given some of the challenges at two other sites being considered for greenway parks, city officials think 721 N. Main could be the city's best bet for moving forward and building momentum around the decades-old vision of an Allen Creek Greenway.
To kick efforts into high gear, the Ann Arbor City Council voted 10-0 Monday night with Margie Teall absent to establish a new North Main-Huron River Corridor Vision Task Force.
Melanie Maxwell I AnnArbor.com
Just as its name implies, the task force is expected to work over the next year to develop a vision for the North Main corridor and nearby areas surrounding the Huron River.
This task force is expected to make a recommendation to the City Council for the best use of 721 N. Main as part of a proposed greenway by Dec. 31, 2012.
Sumedh Bahl, the city's community services administrator, said city staff will be working aggressively to put together a plan for 721 N. Main by the end of this year, one that can be used to seek grant funding from the Michigan Natural Resources Trust Fund.
The task force is being asked to develop a broader vision to enhance pedestrian and bicycle connections from downtown to Bandemer Park and Huron River Drive, as well as increase public access to riverside amenities and ease traffic congestion at Main and Depot streets.
Council members also want the task force to recommend a use for the riverside MichCon property off Broadway Street, where DTE Energy is undertaking a major cleanup project.
After conducting a series of public workshops, the task force is expected to submit a report on all of its recommendations to the City Council by July 31, 2013.
The resolution to create the new task force was co-sponsored by Council Members Sandi Smith and Sabra Briere, both 1st Ward Democrats.
Smith said pedestrian, bicycle and automobile access to Bandemer Park, which hugs the Huron River off Main Street near Argo Pond, is "not being done very well."
"A lot of times people are traversing private property, over the railroad tracks, into Bandemer," she said. "The city has even given up having a fence across where they had one before blocking that access because it was destroyed and removed so many times."
The city is working on getting FEMA grants to demolish two buildings that stand in the floodway at the fleet services garage at 721 N. Main.
Mayor John Hieftje said the city has had fruitful conversations with county parks officials and, while there's no formal agreement yet, they seem happy to consider cooperating with the city and putting out a matching grant like they did with the city's skatepark project.
"This would connect ultimately across Main Street," Hieftje said. "And then there's going to be work going on to get a tunnel under the railroad tracks to connect this with the border-to-border trail and that, I think, is a large hook that brings in other funders."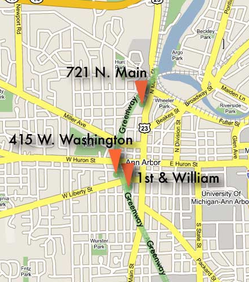 Courtesy of Friends of the Ann Arbor Greenway
Council Member
Stephen Kunselman
, D-3rd Ward, asked if there's any intention of saving the large maintenance garage on the property at 721 N. Main.
Bahl said that's unknown right now. Hieftje said the nonprofit Allen Creek Greenway Conservancy needs the first greenway park at 721 N. Main to be able to say "here we've got a start," and then more grant funding to connect to other proposed greenway anchor parks at 415 W. Washington and the northeast corner of First and William might be more forthcoming.
The city's professional planning staff is expected to begin its own Main Street corridor study project within the next two years. The idea is that the task force created Monday night can begin the community discussion now to establish a vision for improving the corridor.
The task force will include one member of the city's Park Advisory Commission, one member of the Planning Commission, one resident representing the Water Hill neighborhood, one resident representing the North Central area, one resident from the Old Fourth Ward, one resident representing the Broadway/Pontiac neighborhood, two business and property owners from the affected area, and one member of the Huron River Watershed Council.
Following improvements near Argo Dam, including creation of the new Argo Cascades, Smith said there is increased activity at the park areas along the river. The increases in bicycle and pedestrian traffic call for a better pathway across the railroad tracks, she said.
Hieftje said he's hopeful the city will have some luck working with the Michigan Department of Transportation on issues of access to the riverfront from Main Street.
"We are on the cusp of MDOT taking over the east-west rail line," he said. "And MDOT has a lot of the same goals that we do as far as facilitating pedestrian-cycling use, so it should be much easier to work with MDOT to get a way under the tracks, over the tracks, a way past the tracks, to connect this potential greenway pathway with the Border-to-Border Trail."
Council members heard an update Monday from David Esau, who has represented the Arts Alliance on a committee exploring creation of a greenway park and arts center at 415 W. Washington. The City Council approved a resolution in February 2010 inviting the Arts Alliance and the Allen Creek Greenway Conservancy to join the city in that effort.
Esau said there's no question the arts community is interested in a facility like the one the city has in mind, but it's going to take money and grant funds haven't been forthcoming.
He said foundations that could provide grant money want to fund something they know will happen and 415 W. Washington is unfortunately a long way from being at that point.
"Unfortunately we have not made a lot of headway," he said. "We're basically at a point where if the city is serious about seeing 415 redeveloped, it may be better to spend some money now to figure out whether that's feasible and what would be involved, rather than spending it down the line to pay for demolition when the building is deteriorated too far to be salvageable."
Esau said some of the work that is needed, such as hazardous materials investigations, would be needed anyway for either demolition or development of a greenway park.
As supportive of the project as the Arts Alliance is, he added, it's unable to continue working on the project without compensation.
But another group has emerged that has more experience in developing and managing arts facilities of this type and is interested in carrying the project forward, Esau said.
Ryan J. Stanton | AnnArbor.com
Carl Goines
, co-founder and executive director of the nonprofit 555 Gallery, addressed council members following Esau's presentation. He said his gallery was founded in Ann Arbor in 2002 and since relocated to Detroit, where it's been for the past eight years.
"We've been developing arts spaces. Currently we have three locations in Detroit," Goines said, citing old buildings that were renovated for studio, gallery and community arts spaces.
Goines said he's been meeting with the Ann Arbor greenway and arts center task force since January and discussing the possibilities for 415 W. Washington.
"The first step is moving forward with some of these surveys that need to be done to really determine the feasibility of the project," he said, citing a need for an additional $10,000 to $12,000 for surveys to determine if the building can be preserved.
He also expressed interest in moving forward with a hazard materials abatement plan, various feasibility analyses, and developing partnerships with other organizations.
As the old warehouse-style garage at 415 W. Washington continues to deteriorate, Hieftje said the city is going to have to do something with it eventually.
Noting the building is in a historic district, Hieftje said the city would have to petition the Historic District Commission for approval to demolish it if it ever went that route. He said he's still hopeful a greenway park with lots of sculpture and an arts center can happen.
"We have some new excitement around the project working with people who've done it before," he said. "We have high hopes."
Ryan J. Stanton covers government and politics for AnnArbor.com. Reach him at ryanstanton@annarbor.com or 734-623-2529. You also can follow him on Twitter or subscribe to AnnArbor.com's email newsletters.