Posted on
Tue, Sep 14, 2010 : 6:04 a.m.
New tax-capturing authority proposed to facilitate major redevelopment along Washtenaw Avenue
By Ryan J. Stanton
Local officials have big hopes for redeveloping Washtenaw Avenue in the coming years and now say a special tax-capturing improvement zone may be the way to go.
During a working session of the Ann Arbor City Council on Monday, city officials received an update on the Reimagining Washtenaw Avenue corridor study project.
Anya Dale, project manager for the Washtenaw County Economic Development & Energy Department, has taken a lead role on the initiative that's now two years in the works.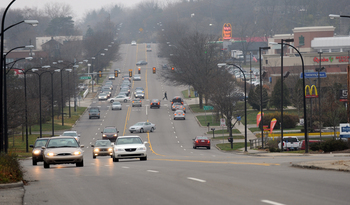 Lon Horwedel | AnnArbor.com
Dale told council members that officials involved in the project are putting final touches on a formal recommendation to create a corridor improvement authority — a body that would oversee improvements along the five-mile stretch of Washtenaw Avenue from Stadium Boulevard in Ann Arbor to the water tower in Ypsilanti.
Under the Corridor Improvement Authority Act of 2005, local municipalities are allowed to set up authorities that use tax-increment financing to make capital improvements within an established commercial district. The act allows communities that already have downtown development authorities to extend similar benefits to aging commercial corridors.
"The authority," Dale said, "has the ability to acquire and improve property, improve aesthetics, really market the corridor as one unified area, they can do much more to improve the transportation system than probably the individual communities could separately, and again they have more opportunity for securing and leveraging funding."
Washtenaw Avenue is considered the primary transportation corridor linking Ann Arbor and Ypsilanti, traversing Pittsfield and Ypsilanti townships. All four municipalities have been in talks for the past two years about ways to facilitate redevelopment of the corridor.
In addition to being considered the most heavily congested traffic route in the county, Dale said Washtenaw Avenue has its share of other challenges: an incomplete and failing sidewalk network, limited pedestrian crossings, no bike facilities, high vehicle crash rates, and high vacancy rates in strip malls and properties that line the corridor.
"The fact that there is this much traffic really should be seen as a plus for the businesses along the corridor," she said.
Dale said past planning practices along the corridor have resulted in a sprawling, auto-centric development pattern. She said there's currently more than 100 acres of underutilized land with potential for infill and redevelopment.
The vision for Washtenaw Avenue is a corridor lined with transit-oriented development that enhances quality of life, stimulates the economy and improves mobility. The vision also includes more dense residential housing, a variety of retail and increased walkability.
"Unfortunately, the Washtenaw Avenue that we all know doesn't really have those things readily available to us," Dale said. "We know that there's a ton of congestion. The setbacks and sort of the built environment really doesn't lend itself well to walking. It's not very well integrated through neighborhoods around it, and there's a pretty significant lack of transportation options — at least sort of safe ones."
Dale said a goal is to reduce setbacks and bring buildings closer to Washtenaw Avenue, getting rid of vast seas of empty parking lots.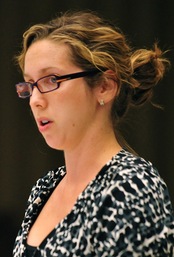 "We can start making a more walkable environment, having sort of two- or three-story buildings, mixed-use buildings, increasing height, allowing more density," she said. "And this really aligns with the area, height and placement standards."
An action team of residents and leaders from local government, business and other interested groups has been working on the vision for Washtenaw Avenue. Its work has been complemented by a smaller technical committee on which City Council Member Tony Derezinski, D-2nd Ward, serves as a member.
Derezinski is championing the idea of a corridor improvement authority.
"When we are cooperating with four communities, the enhancement of our ability to get monies and grants for this is incredibly increased," Derezinski said. "And that's one of the real incentives, I think, for collaboration."
Dale said creating a corridor improvement authority will require buy-in from all four municipalities. She said most of the planning needed to create the authority has been done over the last two years. Officials are finalizing an official strategy this month that lays out transportation and land use recommendations.
"There's not a lot more that would need to be done if this is something that the communities decide to move forward with, which is definitely the recommendation," Dale said.
Dale said 16 corridor improvement authorities exist in Michigan, and another five are in the works. One of them is Michigan Avenue, a 3.5-mile corridor that crosses three jurisdictions and connects downtown Lansing and East Lansing.
The revitalization project is the result of a partnership between East Lansing, Lansing, Lansing Township and Michigan State University.
Financing options available to corridor improvement authorities include tax-increment financing, sale of bonds and ability to levy special assessments.
Through tax-increment financing, future tax growth along the corridor would be captured by the authority to implement improvements, similar to how a DDA operates.
"It has these increased benefits of funding opportunities using tax-increment financing, levying special assessments, receiving grants and charitable donations," Dale said, adding the money netted could be used to match federal transportation dollars.
Council Member Stephen Kunselman, D-3rd Ward, wondered if there potentially could be a situation where tax revenues captured from one jurisdiction are used by the authority to make improvements along the corridor in another jurisdiction. Dale said the cities and townships have the option of setting it up so that wouldn't be the case.
Council Member Christopher Taylor, D-3rd Ward, said when the formal recommendation comes back to council, it would be useful to have a better understanding of the opportunity costs.
Dale noted on Monday there would be no loss to existing tax revenue.
"It's only gathering the increase," she said of the tax-increment financing option. "Some communities decide to gather 100 percent of the increase, some communities decide to gather 50 percent of the increase. You can lay it out a million different ways."
Kunselman questioned whether there's interest from developers in the corridor. Derezinski said he's seen interest in the public sessions he attended.
"We had a number of people and businesses along that corridor, and some of the developers, that were very interested in what was going on with a lot of the developable land within the city of Ann Arbor," he said. "But then also in Pittsfield Township, in particular where that Kmart is. That's just ripe for something really big to happen."
The Kmart is just inside Ypsilanti Township; Golfside Road is the dividing line between Pittsfield and Ypsilanti townships along Washtenaw Avenue.
Council Member Sabra Briere, D-1st Ward, said she hopes the four municipalities can come to an agreement on a plan. She recalled seeing an early master plan for the Washtenaw Avenue corridor sometime around 1980 that never went anywhere.
"Back when that early plan was designed, the idea was that the Washtenaw corridor would be this amazing parkway — all green and beautiful," she said. "This is, of course, a different vision. But the reason it never materialized, I was told, is because of the four jurisdictions — that though they all agreed on this plan, didn't implement it. Hopefully times have changed and the four jurisdictions will implement a plan that they all agree on."
Ryan J. Stanton covers government and politics for AnnArbor.com. Reach him at ryanstanton@annarbor.com or 734-623-2529.