Posted on
Wed, Sep 4, 2013 : 5:58 a.m.
New University of Michigan sexual misconduct policy in effect
By Kellie Woodhouse
University of Michigan has adopted a new sexual misconduct policy.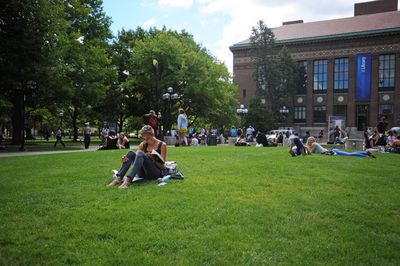 Brianne Bowen | AnnArbor.com
The policy was
refined over the course of two years
and makes possible incidents of sexual misconduct easier to report.
Under the new policy, all allegations of sexual misconduct made against students will be reviewed by the university's Title IX coordinator. The previous policy was complaint-driven, meaning the university did not pursue or investigate a complaint unless asked to by a complainant.
The interim procedure also uses a "more likely than not preponderance of the evidence" standard to evaluate an allegation, where previously the university used a "clear and convincing evidence" standard. That means it's easier to be found responsible for sexual misconduct under the new policy, which university officials say will lead to more accountability.
U-M was prompted to redraft its sexual misconduct policy when the U.S. Department of Education in 2011 urged schools to change how they respond to sexual misconduct allegations among students.
The policy, which applies to all U-M students as well as participants in university-sponsored programs, took effect Aug. 19 as students began returning to campus.
Under the new guidelines, the process to appeal a sexual misconduct ruling has also been expanded. Also, sexual misconduct incidents are now reported to the office for institutional equity, as opposed to the office of student conflict resolution as they were before.
In 2011-12, sexual assault and harassment reports comprised 12.5 percent of the 497 student code violations reported to the University of Michigan office of student conflict resolution. The 62 reported violations involving students included 38 reported sexual assaults and 24 sexual harassment incidents.
Students found in violation of the policy are subject to various disciplinary procedures, including a formal reprimand, workshop attendance, probation, community service and suspension. The violations are separate from criminal charges.
The school's new sexual misconduct policy is similar to the interim policy that was in place for about two years before the most recent change.
Kellie Woodhouse covers higher education for AnnArbor.com. Reach her at kelliewoodhouse@annarbor.com or 734-623-4602 and follow her on twitter.