A2Politico:

Newcombe Clark discusses reasons for running for Ann Arbor City Council

Posted on Fri, Oct 22, 2010 : 12:46 p.m.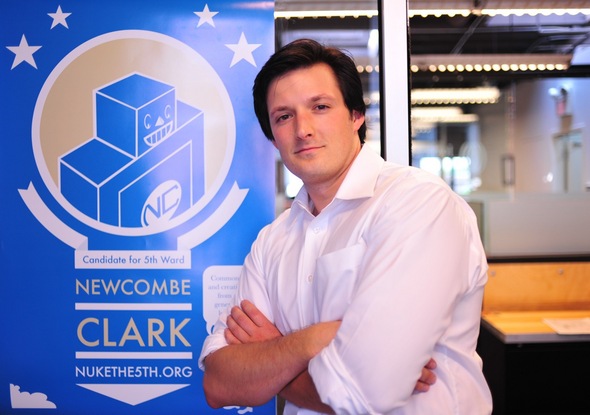 Ryan J. Stanton | AnnArbor.com
Ann Arbor City Council candidate Newcombe Clark is the subject of an in-depth Q&A on A2Politico.com today, exploring his reasons for running as an independent in the 5th Ward.
In a post titled "The Politics of Nuking 'Em: An Interview With Fifth Ward Council Candidate Newcombe Clark," Clark, vice president of markets for Jones Lange Lasalle, dishes on his reasons for challenging Democratic incumbent Carsten Hohnke. Hohnke has opposed two of Clark's development projects near downtown Ann Arbor: The Moravian and Heritage Row.
"To be blunt, I stopped having trust and confidence in Carsten's ability to be an effective leader," Clark writes in one of his answers. "Yes in part because of the way he voted (or didn't show) on my projects, but more so with how he choose to message against those votes."
In response another question, Clark reveals he was living on welfare until age 16. He also answers the hard-hitting question: "Do you prefer blue or black sweater vests?"
Clark and Hohnke will face off on Nov. 2, along with Republican John Floyd, an accountant. Click here to read AnnArbor.com's past coverage of the 5th Ward race.