Posted on
Tue, Jun 26, 2012 : 5:59 a.m.
Improved Superior Dam portage on Huron River makes it easier to kayak from Ann Arbor to Ypsi
By Ryan J. Stanton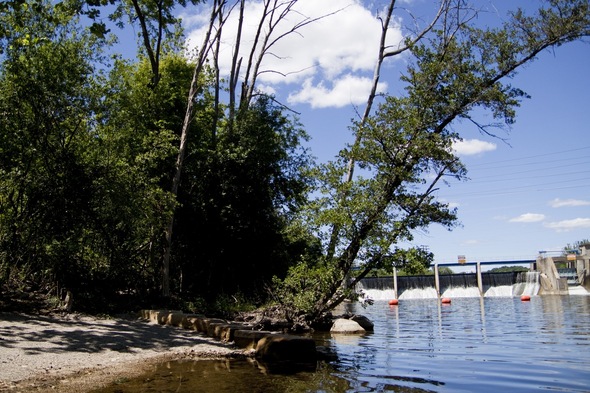 Jeffrey Smith | AnnArbor.com
Time to dust off that kayak.
It's a lot easier to paddle from Ann Arbor to Ypsilanti now thanks to a newly improved Superior Dam portage on the Huron River.
Members of the local RiverUp! initiative celebrated the recent improvements on Monday at the site of the dam.
The dam, originally constructed in 1919, is located in Superior Township, just east of St. Joseph Mercy Hospital. It's one of four dams owned by the city of Ann Arbor, acquired in the 1960s from DTE Energy, and it generates hydroelectricity.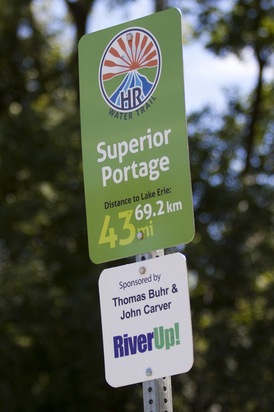 Jeffrey Smith | AnnArbor.com
The recent project, which cost $33,000, entailed putting in a new dock at the top of the portage, as well as signage and a new wood-chipped path over the dam and through the woods — leading to a safe spot to launch a canoe or kayak to continue paddling east.
Laura Rubin, executive director of the Huron River Watershed Council, said the project was made possible thanks to donations by John Carver and Tom Buhr. Both are members of the Wolfpack of the Great Lakes Office of the National Wildlife Federation.
"This was one of the first projects we identified as part of RiverUp! about a year ago," she said, noting the old portage wasn't marked or maintained very well.
"It was a lot of bushwhacking if you wanted to portage around the dam, and RiverUp! is about opening up the river and improving access," she said.
The RiverUp! initiative is an answer to U.S. Rep. John Dingell's call for a substantive plan for the Huron River's future. The Watershed Council, along with the Michigan League of Conservation Voters and National Wildlife Federation, have worked with community and business leaders on a strategy to revitalize the river as a destination for residents and tourists.
Rubin said the old Superior Dam portage was about a half mile long and was difficult for novice paddlers, but now it's a straighter and more gradual path about half its previous length.
"A year ago, I wouldn't have sent somebody down that stretch from Dixboro to Ypsilanti," Rubin said of paddling east from Ann Arbor.
But now she would.
Carver, an Ann Arbor native, is the former co-owner of Good Time Charley's and the Second Chance night club, which operated from 1974 to 1984 where Necto exists today in downtown Ann Arbor. He spoke with AnnArbor.com about the recent improvements on Monday.
"We hope they inspire more of the same essentially," he said. "There's quite a few portages and camp sites and trails that need improvement, so we're hoping maybe some private people help move these projects along and make the river more appealing to the community."
As part of the RiverUp! initiative, the Watershed Council is facilitating an effort to develop a Huron River Water Trail spanning the entire navigable portion of the river, aimed at connecting communities in Oakland, Livingston, Washtenaw and Wayne counties to the river.
Rubin said more work is needed elsewhere and RiverUp! needs support from community and business leaders, local governments, recreational enthusiasts and the general public.
Carver said he's excited about "a lot of cool things happening" along the river, including recent improvements near Argo Dam and DTE Energy's plans to clean up of the MichCon site. He noted there also are talks of public art along the river, and better lighting.
"For a long time, Ann Arbor has turned its back on the river and we're just trying to bring it back into view," he said. "When I was a kid, I spent a lot of time down by the Huron River, so I certainly love the river. My heart's really with the river."

View Superior Dam in a larger map
Ryan J. Stanton covers government and politics for AnnArbor.com. Reach him at ryanstanton@annarbor.com or 734-623-2529. You also can follow him on Twitter or subscribe to AnnArbor.com's email newsletters.