Posted on
Sat, Mar 24, 2012 : 10 a.m.
News Quiz: Test your news knowledge
By Ann Dwyer
The Dexter Bear isn't the only local wildlife with a social media presence. What critter supposedly spotted in Ann Arbor has a Twitter account?
A) West Side Skunk B) North Campus Cougar C) Kerrytown Kangaroo D) Downtown Dingo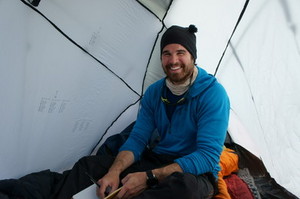 The vernal equinox was on Tuesday. What is surprisingly true about the day?
A) You really can balance an egg B) The hours of daylight and night are not exactly equal C) The temperature was not a record breaker D) No other cultures celebrate it
In all the St. Patrick's confusion last weekend, one particular fight stood out. What was it about?
A) Pizza toppings B) Someone didn't wear green C) Business degree vs. English degree D) Books and authors
What's so special about the U-M student in the photo?
A) He built the tent he used in his climb up a peak in the Andes Mountains B) He has camped in every park in the U.S. C) He created a mobile brewery D) He is sitting in a mobile air conditioning unit that he created
Answers: 1-B, 2-B, 3-D, 4-A