News Quiz: Test your news knowledge
Posted on Sat, Jun 9, 2012 : 8:49 a.m.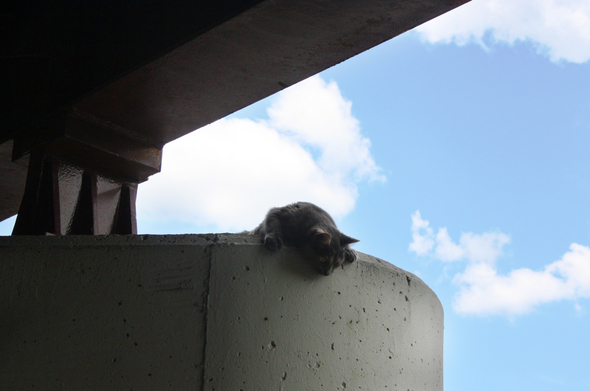 1. The DDA is offering what incentive to get people to use the new underground parking structure?
A) Lower hourly rates
B) Discounted monthly passes
C) Security guards on every floor
D) Cupcakes
2. How did the cat in the photo get down from the highway overpass?
A) A firefighter with a ladder rescued her
B) She jumped down
C) Animal control officers harnessed her from above
D) Nobody knows, cats are mysterious
3. Why were police able to retrieve a stolen laptop within 48 hours?
A) The thief's Facebook friends ratted him out
B) The thief tried to sell the laptop to an undercover cop
C) The thief called 911 when his own house was broken into
D) The laptop took a picture of the thief and emailed it to the rightful owner
4. What happened to a tanker truck full of cooking oil that was reported as missing?
A) The thief crashed it on the highway, the corollary accidents were numerous
B) It was located near what could only be descibed as a "raucous" party
C) It wasn't missing, it had been moved by an employee
D) It's still missing
Answers: 1-B, 2-A, 3-D, 4-C