Posted on
Sat, Oct 6, 2012 : 9:57 a.m.
News Quiz: Test your news knowledge
By Ann Dwyer
Police said a man tried unsuccessfully to break into a building three times before he was arrested. What was the building?
A) A bank
B) A liquor store
C) His ex-girlfriend's apartment
D) A dairy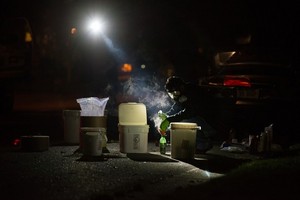 Courtney Sacco I AnnArbor.com
A study finds that men with shaved heads are perceived as what?
A) Weak
B) Liars
C) Masculine
D) Humorous

A woman allegedly poured bleach on her ex-boyfriend's what to get back at him for dating another woman?
A) His doorway
B) His new girlfriend
C) His pool table
D) His clothes

The photo shows police removing a meth lab. Where did they find it?
A) A house where two children lived
B) A Ford truck
C) A school locker
D) An RV

Answers: 1-D, 2-C, 3-A, 4-B