Posted on
Sat, Nov 24, 2012 : 9:57 a.m.
News Quiz: Test your news knowledge
By Ann Dwyer
A man was arrested after doing something some people might not blame him for. What did he do after his car was towed?
A) He took down all the Tow Away Zone signs
B) He plowed his car through the towing company's gates
C) He stole a car in order to get to work
D) He broke into parking meters to pay the fine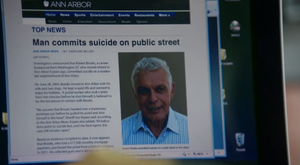 ABC
According a piece on "60 Minutes", University of Michigan football revenue accounts for what percent of the athletic department's $133 million budget?
A) 25
B) 50
C) 75
D) 95

What story does the photo belong to?
A) A "Dateline" piece on a local crime
B) An MSNBC piece on the changes in the newspaper industry
C) A story AnnArbor.com did on how journalism is taught in high school
D) A fake version of AnnArbor.com used on a show called "Scandal"

The Michigan Theater showed Warner Bros. cartoons the day after Thanksgiving. Which is NOT a Bugs Bunny quote?
A) I may be a craven little coward, but I'm a greedy craven little coward.
B) I know this defies the law of gravity, but I never studied law!
C) Mmm, rabbits. That sounds delicious.
D) Poor little nimrod.

Answers: 1-B, 2-C, 3-D, 4-A