Posted on
Sat, Dec 1, 2012 : 9:43 a.m.
News Quiz: Test your news knowledge
By Ann Dwyer
A woman attempting to help a man with directions discovered what?
A) He had a pig in the backseat
B) He was smoking crack
C) He had a gun
D) He was not wearing pants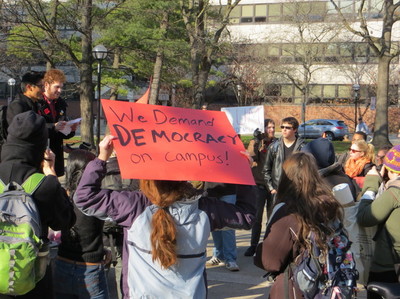 A man from Grand Rapids allegedly stole a bus and was heading to Detroit to do what?
A) Deal drugs
B) Start a rap career
C) Sell the bus
D) Turn the bus into an upscale food cart

What are the students in the photo protesting?
A) Tuition increases
B) Re-instating affirmative action
C) The inability of Graduate Student Assistants to form a union
D) They want Taco Tuesday back

In a recent column, Jessica Webster wrote about food options she was thankful for. One the places she mentioned was Wurst Bar in Ypsilanti. They are known for creating unusual burgers. Which of these was NOT a burger option? (Hint: Jessica mentioned two in the article).
A) Surf on Surf on Turf butter burger
B) Deconstructed Monte Cristo Burger
C) The Roquefort Files Burger
D) Mr. Peanut

Answers: 1-D, 2-B, 3-A, 4-C