News Quiz: Test your news knowledge
Posted on Sat, Sep 1, 2012 : 10:12 a.m.
A man called the cops when he found that the contractor he had hired demanded a higher price after he gave them his money. What had he hired the contractor to do?
A) Renovate his kitchen
B) Kill his wife
C) Have sex with him
D) Supply him with crack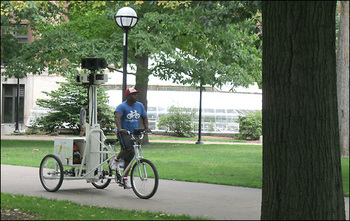 Photo courtesy of U-M
An Ypsilanti Township man was smart enough to do what when the police came to his house?
A) Call his lawyer
B) Sic his pit bull on them
C) Realize they weren't actually cops
D) Shoot at them

What is that guy riding in the photo?
A) A trike decked out with super-bass speakers
B) A trike with a PA system used for Obama's campaign
C) An ice-cream trike
D) A trike used to capture footage for Google Earth

Turns out the DDA has a unique way of making tens of thousands of dollars. What is it?
A) Charging students for "moving in" parking
B) People who pay for parking on Sundays
C) Deals made with tow companies
D) People paying meters after 6 p.m.

Answers: 1-C, 2-B, 3-D, 4-D