Posted on
Sun, Jun 9, 2013 : 4:10 p.m.
No injuries reported in Cessna plane crash at Ann Arbor airport
By Sven Gustafson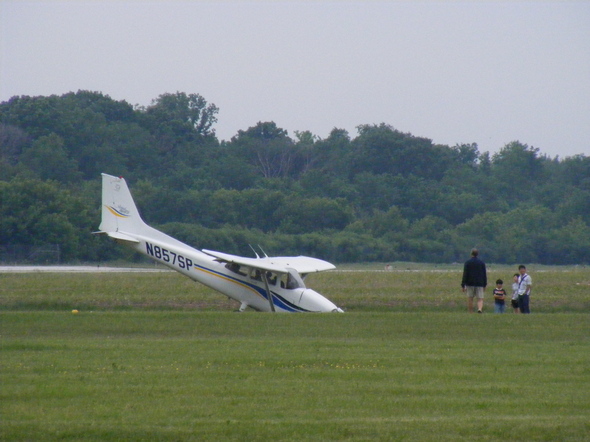 Photo courtesy of Terry Williams
Editor's note: This story has been updated to include comments from Terry Williams, a witness to the scene.
Pittsfield Township authorities said no one was injured in in a crash of a single-engine Cessna plane at the Ann Arbor Municipal Airport on Sunday.
Photo courtesy Celyn Rogers
The incident took place around 11:17 a.m.
All passengers had emerged from the plane and reported no injuries by the time police and firefighters arrived, the Pittsfield Township Department of Public Safety said in a news release.
Ann Arbor resident and self-described "aircraft nut" Terry Williams was taking pictures at the airport, which he said was being used by a flying group for its annual pancake breakfast fundraiser and fly-in. He said the accident happened as the pilot attempted to land the plane on a shorter, lesser-used grass runway.
"For some reason, I just happened to catch this one coming in and my immediate reaction was, why is he using this runway, because all the planes that were flying in and out were using the long runway," Williams said.
The pilot was also landing with the wind, "which is a big no no," he said. "When he came in to land, the wind was literally right on his tail. He would have wanted to land the exact opposite way."
Williams said the plane dropped steeply as it approached the runway and cleared the trees, bounced two or three times, then took a violent bounce that caused the plane to pitch over nose-first into the ground, plowing into the grass before eventually coming to a rest. A message was left with Deputy Police Chief Gordon Schick, and no one answered the phone at the airport.
Williams said it appeared the plane was carrying the pilot, a woman who appeared to be his wife, and their son. He said firefighters arrived on the scene within minutes of the crash.
The Federal Aviation Administration will investigate the incident.