Posted on
Sun, Nov 27, 2011 : 4:49 p.m.
Owner of missing metal crossing guard: 'I'm crossing my fingers that someone will bring him back'
By Lisa Carolin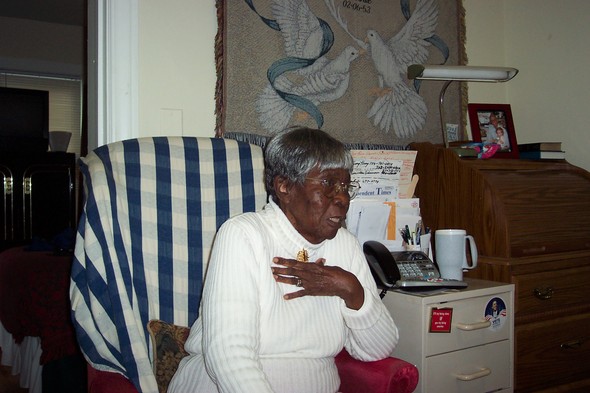 Lisa Carolin | For AnnArbor.com
It has been two weeks since the metal crossing guard figure disappeared from the North Fourth Avenue-side yard of 95-year-old Johnnie Mae Seeley's home at the corner of Beakes Street.
Ann Arbor police have no new leads on the "Little Man" that disappeared Nov.12 from the yard, where it was placed years ago by Howard Seeley, the late husband of Johnnie Mae.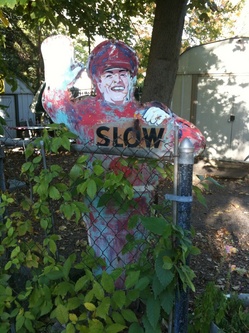 Courtesy of Margaret Schankler
"I haven't heard anything about the Little Man and have no guesses where he might be," said Seeley. "I'm crossing my fingers that someone will bring him back."
She says that she is hoping for a similar outcome to the last time the Little Man disappeared.
"Someone took him about five or six years ago," Seeley said. "One day the police came to the door and they were smiling, so I knew it couldn't be too serious. They asked if we knew this man and showed us the Little Man. My husband told them, 'That's my sign.' "
"My husband was a collector and hauled for different people who told him to take things to the dump," said Seeley. "This was the dump, so he brought the Little Man here."
Howard Seeley died two years ago, but it hasn't stopped his wife from being involved in the community. She belongs to a knitting club, enjoys shopping at the nearby Ann Arbor Farmers Market and goes to church every Sunday.
"I've worked hard all my life," she said, having spent many years as a caterer.
Originally from Louisiana, Johnnie Mae and Howard Seeley moved to Ann Arbor and bought the home that she still lives in in 1955. With the exception of the missing crossing guard, she says they've never had any trouble in the neighborhood.
"I feel real comfortable here," she said.
Anyone with information on the Little Man can call the Ann Arbor Police Department at 734-994-6920.