Posted on
Wed, Nov 24, 2010 : 1:40 p.m.
No pat-down, body scan protests observed at Detroit Metropolitan Airport
By Juliana Keeping
The government's new airport pat-down procedures have inspired public outcry this week — not to mention a plethora of satire and viral videos.
Then the call for "National Opt Out Day" was born.
But by mid-morning today, Detroit Metro Airport spokesman Scott Wintner said he hadn't observed any slowdowns or travelers opting out of the body scans.
"There's no one in line. There's nothing going on. It's smooth sailing," he said.
Wintner said he wasn't sure what group was behind the initiative to render the day before Thanksgiving as "National Opt Out Day."
But the idea encourages passengers to refuse the body scans in protest. That way, they'd slow lines and disrupt travel by being subjected to the more time-consuming pat-downs.
Safety v. intrusion
New this month, passengers who refuse a body scan will undergo new Transportation Security Administration pat-down procedures.
Despite no reported passenger-TSA showdowns at Detroit Metro, civil rights concerns remain.
The TSA insists scans and pat-downs are being used to keep the public safe, while groups like the American Civil Liberties Union say the procedures go to far.
"TSA screening procedures change regularly, said we base them on intelligence and risk," said TSA spokesman Jim Fotenos, noting that pat-downs have long been used at virtually every other nation with a similar risk-based approach to security.
Pat-downs, Fotenos said, can be used to detect hidden and dangerous items, like the explosives the would-be underwear bomber used in the failed Christmas day 2009 attack at Detroit Metro.
Setting off a metal detector or carrying a suspicious object detected by the body scan technology will also result in a pat-down, Fotenos said. But according to the TSA, 99 percent of passengers prefer the scans.
On its blog, the ACLU insists old-fashioned intelligence and law enforcement tactics work better than advanced "naked machines" and intrusive pat-downs. The usefulness of the technology doesn't justify the intrusion, according to that group. Nine hundred individuals have sent complaints in to the organization via its website.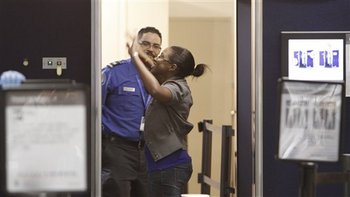 J Pat Carter | The Associated Press
Body scans have been available for Detroit Metro TSA screeners since July 2008. They detect metallic and non-metallic objects and explosives. Detroit Metro passengers could see more of them by Christmas, Wintner said.
The scanners at Detroit Metro are available for use by TSA screeners at five of seven security checkpoints. Each checkpoint has multiple lanes.
It's hard to let travelers know what to expect — and the TSA wants it that way, said Wintner.
"TSA's goal is to make security screening predictably unpredictable," he said. "They are striving for inconsistency because they want to take the would-be terrorists off guard. No two times are necessarily the same."
Charles Krupa | The Associated Press
An ABC/Washington Post Poll this week states 48 percent of Americans think the pat-downs are just fine.
A CBS poll cited by the TSA on its website says 81 percent of Americans don't mind the body scans.
But do body scans carry health risks?
Radiation concerns have prompted some passengers to refuse the body scanners, according to media reports.
One expert says passengers shouldn't be concerned.
At Detroit Metro, passengers aren't exposed to X-rays — the scans use millimeter wave technology similar to what is used by a cell phone, according to radiologist and University of Michigan Medical School professor Ella Kazerooni. The radio waves are otherwise known as "non-ionizing electromagnetic radiation," Kazerooni said.
The back scatter technology used in scanners at other airports does emit X-rays or what people generally consider radiation. But a person would have to walk through a machine 300 times to receive a dose of radiation equivalent to one chest X-ray.
According to the American College of Radiology, an individual is exposed to more radiation on a flight than by a screening with either device.
What do you think? Do you have a pat-down or body scan tale to tell? Take our poll and post a comment below.
Juliana Keeping is a health and environment reporter for AnnArbor.com. Reach her at julianakeeping@annarbor.com or 734-623-2528.
Follow Juliana Keeping on Twitter