Posted on
Wed, May 4, 2011 : 12:24 p.m.
Non-cyclist attempts first bike commute after committing to Ann Arbor's Commuter Challenge
By Juliana Keeping
I am not a sanctimonious hipster on a single speed.
I won't one-up your story about geothermal heating system with a tale about my teensy weensy carbon footprint. Because I don't know what my carbon footprint is. And no one I hang out with can afford geothermal. So I wouldn't be at that party anyway.
Here's something else I'm not, I found out this morning, the hard way: in shape.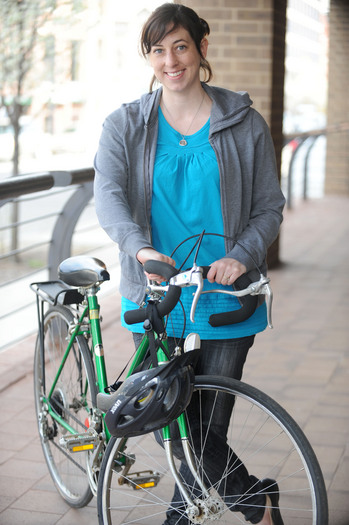 Angela Cesere | AnnArbor.com
I commuted to work for the first time, ever, on a bike.
I pondered bike commuting for the first time last fall - taking a green bike out of my parents' garage and into a bike shop for a tune up. I borrowed panniers from my brother-in-law and got a helmet and lock. I vowed to Mark, my skeptical husband, my scheme: to start biking to work. To save gas! To shed those last few clingy baby pounds! And then I kept driving.
Then Nancy Shore, from the City of Ann Arbor, paid a visit to the first floor of AnnArbor.com at 301 E. Liberty St. She sat at a table covered with pamphlets and Kashi bars and refrigerator magnet clippie things.
Baited, I inquired as to what she was doing there.
Ann Arbor's getDowntown program promotes sustainable transportation. Its annual Commuter Challenge is set for the month of May. Last year, 1,800 people logged at least one commute during the challenge. And all I needed to do to participate was sign up, then bike, bus, walk or carpool instead of drive once during the month, log in online and note my progress. For prizes!
Oooh. Prizes. My green bike. Baby weight. Gas money. Proving husband wrong.
"Yeah sounds good, sign me up," I said, swiping a magnet.
On Monday, I did not bike to work. I got a reminder e-mail from the Commuter Challenge, which I ignored. On Tuesday, we talked about the program at the office. Who would write about it and how?
I blurted out my intention to participate.
Sounds good, my editor said. Can you turn it into a column?
Internal expletive
I had no excuses left.
This morning, I stuffed my laptop into a pannier.
I made a point to kiss my husband and baby goodbye. Because I wasn't actually sure I'd get to work alive.
I hopped on the green bike in southeast Ann Arbor and started the commute to downtown. I crossed Washtenaw Avenue it like an obedient schoolgirl. Looking both ways. Walking my bike.
Because Washtenaw Avenue frightens me, Shore had suggested Huron Parkway to Geddes, and then through the University of Michigan campus or by the U-M Health System, as a route.
Huron went smoothly, except for the parts where the fresh air seared my heaving lungs. And the parts where I thought the uneven weight of one pannier would send me tumbling off the steep drop to my right and into the Huron River watershed, never to be heard from again. Or when my thighs were close to spontaneous combustion.
Huron did feature a nice sidewalk, and a nice bike path. Geddes, thin and winding, was another story. A bumpy bike path abruptly ended. A sign indicated myself and the cars should "share the road."
Hahahahahaha.
Nothing scares me more than a car when I'm on a bike. But I forged ahead.
Periodically, a path on Geddes I had never noticed before did help my commute. The garbage cans in the middle of that path did not. Those picturesque, glacial hills became drudgery. At one point, an elementary-aged blond girl with braids and a purple backpack was walking faster than me on my bike.
I got off to walk my bike up the hill. For the fifth time. The girl flashed me a big smile. I smiled back. And I hopped back on the bike.
The rest of the ride to work got better after that. I passed the entrance to the Nichols Arboretum, rode across the U-M Diag and, finally, to work.
My patchwork bike-walk commute had taken me more than 40 minutes.
Normally, I walk in sloshing coffee, bleary-eyed and yawning. This morning, I felt a little more alive than normal. A little sore, and a little tired, but better, in a way. Maybe it was the smile from the girl on Geddes, or all the little things I saw from my bike that I wouldn't have noticed from a car. I don't know.
But I think I'll do it again.
Shore says 1,350 participants and 160 organizations have signed up so for the Commuter Challenge. Are you trying out a sustainable commute? What has the experience been like? Leave us a comment below.
Juliana Keeping covers general assignment and health and the environment for AnnArbor.com. Reach her at julianakeeping@annarbor.com or 734-623-2528. Follow Juliana Keeping on Twitter