Posted on
Fri, Mar 22, 2013 : 10:22 a.m.
Nonprofit bike advocacy group forms in Ann Arbor; Busch's & Red Cross team up for 'GatorRaiser' disaster relief effort
By AnnArbor.com Staff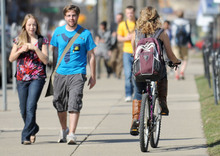 AnnArbor.com file photo
From the formation of the advocacy group Bike A2 to a disaster relief partnership between Busch's grocery stores and the American Red Cross, here's a roundup of some of the stories posted on AnnArbor.com's Community Wall this week:
By: Krysia: A New Ann Arbor Bike Advocacy Group Just Rolled Into Town
Bike A2's mission statement is: "To inspire leaders, business owners, and citizens of Ann Arbor to support initiatives that will enable more people to ride bikes more often." Bike A2 has already partnered with GetDowntown.org and will help them with their "Bike to Work Day" on May 17, 2013.
By: Marla Booth: GatorRaiser for Local Disaster Relief
The American Red Cross and Busch's Fresh Food Market need your assistance during the 4th Annual GatorRaiser! When you donate a pack of Gatorade or bottled water the last week of March at Busch's, you will be helping your community and those who serve it when they need it most; during times of unforeseen disaster.
By: City Pets Veterinary Clinic: Pet Acupuncture Demo & Herbal Treatments
By: Dawn Farm Education Series: Support recovery, not addiction -
By: Jer: Come to the Career Fair on Tuesday, March 26, 2013 from 9:00 to 4:00
By: Donna DeButts: Dine for Dollars and Support the Ypsilanti District Library
By: Kathy Holtz: Bedside Musician Training Offered at U-M
By: AndrewBronstein: Community Education Event on Impact of Sequestration (Organizing For Action)
By: PurpleWalrusPress: Album Review: Chris Good "Beautiful"
By: Kristy Short: Operation Nice Anti-bullying Program Featured on ABC's Channel 7 News - Detroit—Coverage shows students in action as they "Spread the Nice!"
By: Tristan: South Pointe Scholars Offers Information Night to Parents
AnnArbor.com's Community Wall is a spot for local people to post local stories, news and announcements. To post a story, sign in to AnnArbor.com, then go to www.annarbor.com/community and use the Got News? Tell Us function at the top to submit your news. If you have a photo to add, e-mail it to us at community@annarbor.com, and we'll insert it into your story.