Posted on
Tue, Nov 20, 2012 : 1:02 p.m.
Norovirus-like illnesses reported at two Ann Arbor area child care centers, elementary school
By Amy Biolchini
Two Ann Arbor-area child care centers and an elementary school have reported outbreaks of a norovirus-like illness this month, according to Washtenaw County Public Health.
The gastrointestinal illnesses prompted the two child care centers to close briefly to disinfect toys and furniture, said Susan Ringler-Cerniglia, spokeswoman for the health department. The centers have since reopened, she said.
Washtenaw County Public Health would not release the names of the child care centers or elementary school where norovirus-like illnesses had been reported in the first full week of November.
At the elementary school, children from more than one classroom were sick and school staff consulted with Public Health for the best way to handle the sickness, Ringler-Cerniglia said.
Norovirus is a highly contagious virus that causes inflammation of the stomach, intestines, or both. The most common symptoms are vomiting, diarrhea, nausea and stomach pain. Other symptoms can include fever, headache and body aches.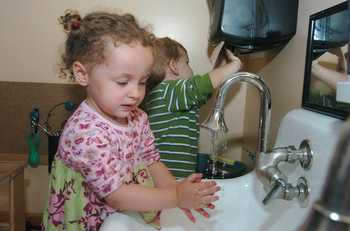 AnnArbor.com file photo
The biggest concern for children with norovirus is making sure they don't get dehydrated, Ringler-Cerniglia said.
The health department is encouraging people to wash their hands more than ever, as Ringler-Cernligia said it's the best way to prevent the spread of the virus. Staying home and not preparing food when sick with norovirus are also effective ways for infected people to prevent the spread of the illness.
Lab tests have not confirmed that the reported illnesses are norovirus, but Ringler-Cerniglia said the health department believes it's likely they are.
With children back to school and colder weather keeping people indoors more, Ringler-Cerniglia said it's common to see diseases like norovirus appear in November.
"We expect this to continue in group settings," Ringler-Cerniglia said.
People develop symptoms about 24 to 48 hours after they're exposed to the virus, and symptoms typically last for a day or two, Ringler-Cerniglia said.
However, people who have had norovirus are still contagious from three days to two weeks after their symptoms go away, Ringler-Cerniglia said.
Ideally, children and people that have been sick with norovirus will stay out of school and work for two to three days after their symptoms are gone, but a more reasonable expectation is for children and people to stay home for 24 hours after the symptoms are gone, Ringler-Cerniglia said.
There is no vaccine for norovirus.
Norovirus can live on hard surfaces for several days if they aren't properly disinfected. It's important to use cleaning solutions that include bleach to ensure that the virus is killed, Ringler-Cerniglia said.
Popular cleaning supplies like disposable wipes often don't include bleach and won't be effective in killing norovirus, Ringler-Cerniglia said.
Ringler-Cerniglia recommended using a solution of a tablespoon of bleach in a gallon of water to disinfect surfaces and toys, or up to one-third of a cup of bleach in a gallon of water for floors and bathroom areas.
Amy Biolchini covers Washtenaw County, health and environmental issues for AnnArbor.com. Reach her at (734) 623-2552, amybiolchini@annarbor.com or on Twitter.