Posted on
Thu, Aug 5, 2010 : 5:33 p.m.
University of Michigan's $175 million North Quad complex ready for students
By Juliana Keeping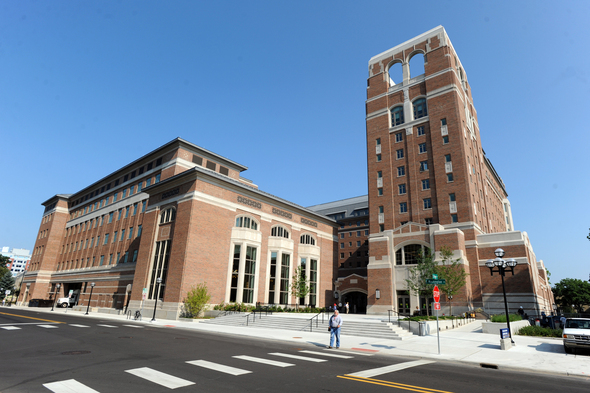 Lon Horwedel | AnnArbor.com
Jutting seven to 10 stories above Ann Arbor's streets, the University of Michigan's latest massive building project is almost complete.
Now, all the North Quadrangle Residential and Academic Complex needs is students.
"We envision this space as a new gateway and magnet for the rest of campus - an energized, innovative, always-active center close to the heart of downtown Ann Arbor," U-M President Mary Sue Coleman said in a written statement.
Three years after construction began, the 360,000-square-foot, $175 million building on State Street between Huron and East Washington is ready to house 450 sophomore-and-above students.
They'll fill out the new facility by Sept. 3.
North Quad is the keystone of Coleman's ongoing Residential Life Initiatives, a project to improve residential halls and strengthen living-learning opportunities on campus.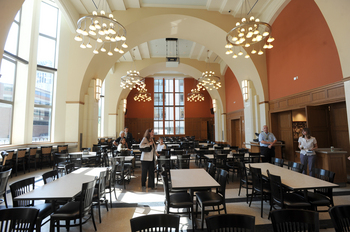 Lon Horwedel | AnnArbor.com
North Quad will house the School of Information and four academic units of U-M's College of Literature, Science and the Arts.
Its top floors will house students in single and suite-style room arrangements. Academic facilities on the bottom two floors will include 19 classrooms and three technology-rich labs for use by the School of Information. A 180-seat dining hall will serve international cuisines.
In keeping with the School of Information's goal to explore and create connections between people and technology, a multi-screen display lab could, for example, help AIDS researchers in different countries interact with large sets of data and each other, said Judy Lawson, director of admissions and student affairs for the school.
With the completion of North Quad, the school's undergraduate, master's and doctoral programs will be housed under the same roof for the first time.
Those both living and learning at the complex will include 65 students with a new global scholars program. The goal of that program, director Jennifer Yim said, is to help students interested in social justice become "global leaders who are interested in affecting positive change."
One student who participated in the global scholars pilot program last year spent the summer studying poverty in the slums of Bombay, India, Yim said.
Those students will take one required dialogue-based course - for example, one will include discourse on Arab-Jewish conflicts. And monthly, beginning in September, the program will host lectures open to the public.
The first topic is close to home. A lecturer on Ojibwe language preservation will kick off the series with a focus on this area's first nations.

The look
North Quad's "collegiate gothic" red-brick-and-stone architecture reflects a number of prominent buildings on campus.
Its two C-shaped towers frame a courtyard, and a colonnade connects them. The courtyard is a "civic space" open to the community just a few steps from the street, as well as a green roof to academic facilities below it. The roof is one of many examples of environmental sustainability and energy efficiency that have set a new building standard on campus, said Sue Gott, a university planner.
North Quad stands on the site formerly held by the Frieze Building, which was demolished in 2007.
The Frieze Building had several previous lives. It was anchored by the Carnegie Library, the city's first free standing public library built in 1905. In 1907, Ann Arbor High School was built around the library. Then, U-M purchased the building in 1957 and used it for its department of theatre until 2007.
U-M preserved a portion of the Carnegie Library facade and integrated it in to the construction of North Quad. The Carnegie Library facade now overlooks Huron Street, and different elements from the old building have been made into public art on the grounds.
The new building's classic look belies the technology-rich facilities within.
Students can use multiple flat screens in public areas to share data or throw a Nintendo Wii party. Wireless Internet access is a given, but extras like digital and video projection and sound are also available to students.
What students won't find when they arrive is parking - and that's not an accident, university officials said.
Gott said the lack of parking options will encourage students to walk, ride a bike and take the bus. With building entrances near the street, the State Street businesses are literally a few steps away.
Editor's note: Judy Lawson's title was changed to reflect her dual role as director of admissions and student affairs for the U-M School of Information.
Juliana Keeping is a higher education reporter for AnnArbor.com. Reach her at julianakeeping@annarbor.com or 734-623-2528. Follow Juliana Keeping on Twitter