Posted on
Sat, Feb 16, 2013 : 12:26 p.m.
45-car crash closes US-23 south of Milan
By Bob Needham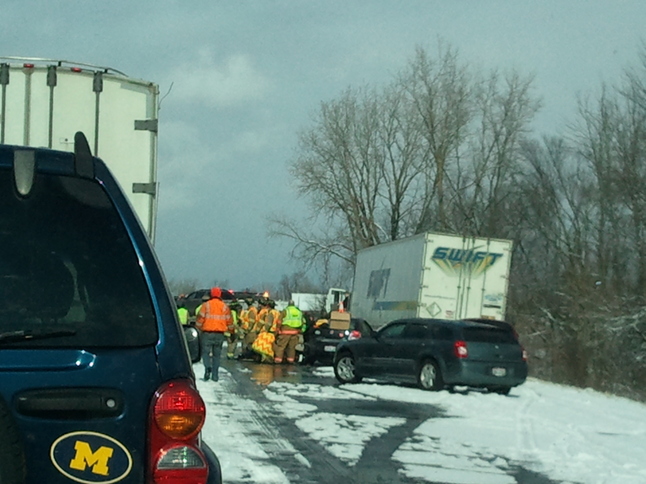 photo by Jill Tewsley
Northbound US-23 was closed for about two hours Saturday afternoon south of Plank Road in Milan after a chain-reaction crash that spanned about 45 vehicles.
The freeway was being reopened at about 2 p.m., Milan Fire Chief Bob Stevens said just after returning from the scene. Two fairly serious injuries and 5 less serious injuries resulted from the crash, Stevens said.
Huron Valley Ambulance spokesperson Joyce Williams said two patients were taken to St. Joseph Mercy Hospital in stable condition following the crash.
A band of heavy snow passed through the area in late morning and was expected to cause difficult driving conditions.
Stevens said the incident began with a Monroe County sheriff's deputy helping a stranded motorist along northbound US-23 near the Plank Road exit. A passing motorist lost control and that vehicle spun out, causing chain-reaction crashes.
"It escalated into about 45 cars," Stevens said. "It just got extremely slick out there all of a sudden."
US-23 was closed briefly in both directions, with the initial northbound closure extending to the Ohio state line. The northbound lanes remained closed south of Plank Road for about 2 hours while rescue workers tended to the injured and helped clear up the situation.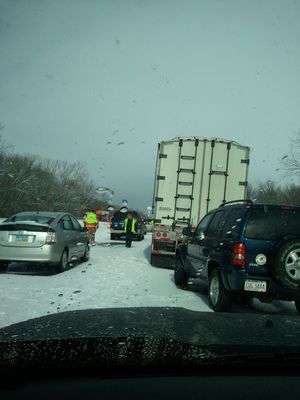 photo by Jill Tewsley
Milan resident Jill Tewsley spoke to AnnArbor.com while stuck in the closure. The main accident took place right around noon and appeared to be several cars in front of her family's, very close to the Plank Road exit, she said.
"There was a white-out when the accident happened, and it was difficult for the cars behind to stop," Tewsley said. She said her family could hear other collisions behind them as vehicles struggled to stop after the initial crash.
She said several police and fire departments and ambulances were on the scene.
"The response teams were incredible," Tewsley said, responding quickly and efficiently as they checked for injuries.
Although Tewsley said southbound traffic as well as northbound was stopped for a time, by 12:50 some southbound traffic was again getting through. The northbound lanes remained at a standstill.
South of the main crash site, "along northbound 23 there were 2 other minor accidents, with one patient transported," Stevens said.
Agencies responding to the crashes included the Milan Fire Department, the Dundee Fire Department, the Washtenaw County Sheriff's Office, the Michigan State Police and Monroe County Ambulance.
Possible snow squalls throughout Saturday afternoon will continue to create potentially hazardous driving conditions, according to the National Weather Service.