Posted on
Thu, Jan 10, 2013 : 5:59 a.m.
Solar panel installation on University of Michigan property off Plymouth Road irks nearby residents
By Kellie Woodhouse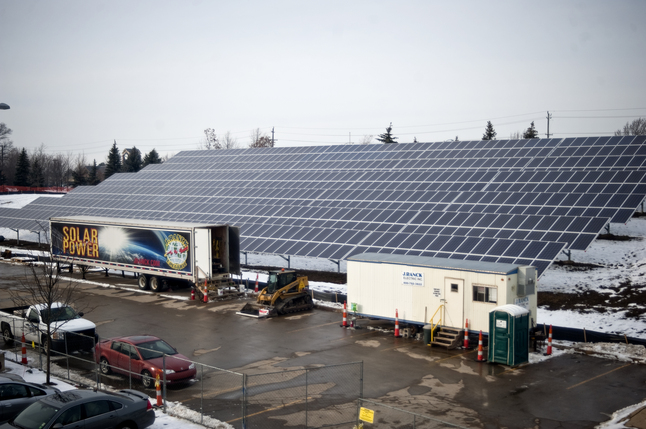 Joseph Tobianski | AnnArbor.com
Hundreds of solar panels installed
on
University of Michigan
property on Plymouth Road in northeast Ann Arbor have upset residents who say the array is an eyesore and are frustrated by the lack of communication between the college and nearby residents.
Ward 2 Ann Arbor City Council member Jane Lumm sent a memo to U-M's director of community relations complaining about the lack of notice or community engagement prior to the installation.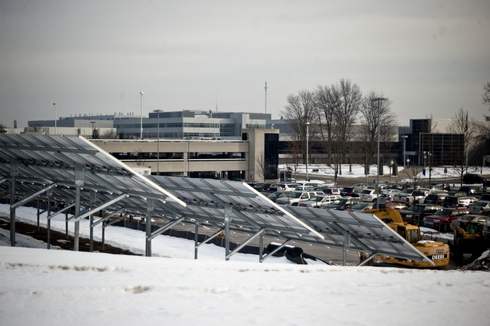 Joseph Tobianski | AnnArbor.com
"This project is devoid of that very essential Ann Arbor 'ethos'," Lumm said in the December letter.
"The installation came as a complete surprise to me and to the many residents in [northeast] Ann Arbor who are now writing to express their shock and dismay at the... industrialization of Plymouth Road," Lumm wrote. "How can such a large project... suddenly take shape with zero heads-up or regard for community input?"
The panels are operated by DTE Energy on land owned by U-M. DTE began installing the solar array in the fall. DTE offered U-M an initial payment of $12,000 and will pay the school $12,000 a year to use the land, according to a university official.
The university receives $12,000 per year, which is dedicated toward landscape maintenance of the area. There was also a one time payment of $12,000 for the construction.
The assortment includes 1,800 panels and will generate enough energy to power about 100 homes, according to DTE estimates.
The panels span 2.4 acres of North Campus Research Complex land along Plymouth Road, near Nixon Road and Huron Parkway, acquired by U-M when it purchased the old Pfizer property in 2009.
"I happen to be a supporter of this type of project, but it looks hideous," said David Bizot, a northeast Ann Arbor resident and member of the Orchard Hills-Maplewood Homeowners Association. "Why didn't the university reach out and engage us? Looking longer term that's the bigger issue."
U-M President Mary Sue Coleman first announced U-M's plans to install solar panels during a sustainability address in September 2011. The panels are part of a $14 million initiative to enhance sustainability on the Ann Arbor campus.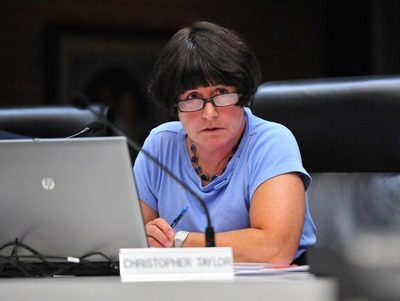 Ryan J. Stanton | AnnArbor.com
In an interview, Jim Kosteva, the college's community relations director, said the solar panel array "is consistent with city goals and objectives on sustainability."
In a written response to Lumm, Kosteva — the college's community relations director — said that the panels didn't violate the northeast area planning vision, which highlighted the 2.4 acres for industrial and research use. When the planning report was first composed, the property was owned by Pfizer, a pharmaceutical company that operated in Ann Arbor.
The panels may be a head turner, but that's a good thing, Kosteva offered.
"As U-M continues to promote sustainability through various programs and initiatives, we also seek strategic opportunities to demonstrate our leadership," he wrote. "Choosing a prominent site for the solar panels and exposing the public to its location, especially within a research setting, reinforces the importance of embracing versus hiding."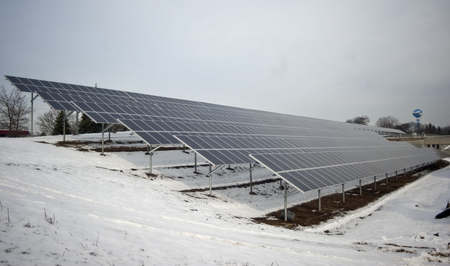 Joseph Tobianski | AnnArbor.com
Later, he added: "There is no noise, no emissions, and no functional negative impact from solar arrays — they are simply new and different, and therefore may create an uncomfortable feeling for some as we collectively adjust to what may become a new future use of our landscape over time."
Kosteva said the project was considered an infrastructure improvement, not new construction, and thus wasn't announced to the nearby community, outside of media reports.
"What I will concede is that a specific location [of the panels] were not as clear as some would have preferred," he wrote.
To address aesthetic concerns, Kosteva said the university plans to add landscaping into the site. Kosteva plans to meet with Lumm and other concerned residents about the solar panels. Lumm said she will ask the university to remove some of the panels that are close to the road.
For affected residents, the panel field has the visual impact of a new building.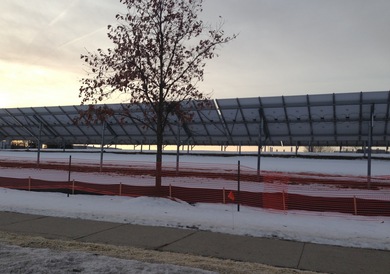 Kellie Woodhouse | AnnArbor.com
"U of M is sending the message that solar is industrial, in-your-face, and ugly and we had just better get used to it. I don't think that's going to win many converts," offered Bizot.
Yet more jarring than the aesthetic change, some residents say, is the university's lack of communication with residents.
"It's a structure. It's definitely a capital investment," said Sally Petersen, a Ward 2 council member. "I am up there almost evey day and, personally, I am not offended by them. But I would have liked to have known that they were coming and not to have been surprised by it. Visually, it would be good if there were some trees or something to block the view."
Petersen, first elected in November, said the solar panels "appeared overnight," frustrating residents, some of whom already have a list of grievances against the university, she said.
"I've been trying to build bridges between the university and the residents of Ann Arbor and this is making that more difficult," she said.
Peter Mooney, a northeast Ann Arbor resident and president of the Orchard Hills-Maplewood Homeowners Association, said he's hopeful the university will be more communicative in the future.
On Tuesday evening, the homeowner's association approved a resolution opposing the university's decision to go forward with the solar panel project in its current location without greater public input.
"In the future we'd like to be notified and have the chance to express our views," he said. "We would support getting some more input on any changes out there concerning the neighborhood and the major thoroughfare coming in."
Northeast Ann Arbor resident Greg Jagst puts it more bluntly: "I would like to see the university soften its approach with the community."
A view of the panels driving down Plymouth Road:
Kellie Woodhouse covers higher education for AnnArbor.com. Reach her at kelliewoodhouse@annarbor.com or 734-623-4602 and follow her on twitter.