Posted on
Tue, Oct 25, 2011 : 11:27 a.m.
Northern Lights visible in Washtenaw County: Did you see them?
By Jen Eyer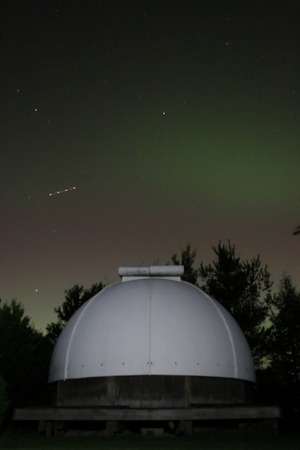 Photo courtesy of Brian Ottum
Local skywatchers were treated to a rare Northern Lights display last night. We've heard from several readers that auroras were visible in the less-populated areas of Washtenaw County.
Brian D. Ottum, an amateur astronomer from Saline, sent us the photo at right, and Eastern Michigan University admissions advisor Tom Kasper contributed the gallery below. If you took a photo, email it to us at community@annarbor.com, and we'll post it here.
The lights were visible due to a massive burst of solar wind that hit Earth on Monday. According to SpaceWeather.com, "the impact sparked an intense geomagnetic storm. ... As night fell over North America, auroras spilled across the Canadian border into the contiguous United States."
"This was one of the best aurora displays I've seen in the Ann Arbor area," wrote Ottum, a business consultant who maintains a 16-foot observatory in his backyard in Saline. "But the sun is entering a very active phase, so we can expect to see more over the next couple years. Yes, these are rare for us in the middle-latitudes."
Jen Eyer is director of audience engagement for AnnArbor.com. Reach her at jeneyer@annarbor.com.