NorthRidge church aiming to prepare 1 million meals this weekend for countries in need
Posted on Sat, Feb 12, 2011 : 11:11 a.m.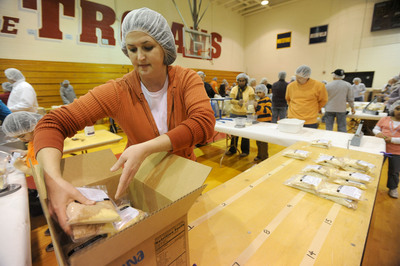 Angela J. Cesere | AnnArbor.com
Inside the gymnasium at Whitmore Lake Middle School, one million meals are being prepared this weekend. More than 5,000 volunteers are working to benefit the organization Feed My Starving Children, and the meals they prepare will be sent to children in Haiti, Guatemala and Somalia.
The "A Million Meals" undertaking is a commitment by the NorthRidge Church, which has locations in Plymouth, Saline and Howell.
"We look for opportunity to make a difference," explained Mike Miller, NorthRidge's director of outreach. "It costs 19 cents per meal, and we're hoping to collect $190,000 in donations by the end of the weekend."
"This is about pulling our people's resources to make a difference in the world," said Brad Powell, NorthRidge Church senior pastor.
Marilyn Wagner, a member of NorthRidge's Plymouth congregation, volunteered her time Friday night because she said she wants to serve God and help children who are hungry. Joanna Krenk, a parishioner from Canton, wants to get her children involved in volunteering.
"It's a great way to serve, and it made a great impact on my kids to learn about the children in Haiti," she said.
Whitmore Lake Middle School was the ideal location because it is centrally located among NorthRidge Church's three locations. The gymnasium was set up with dozens of stations where volunteers put together meals, which are divided into four food bins at each station.
Feed My Starving Children, which is a Christian nonprofit organization based in Minnesota, produces food formulas aimed at saving the lives of malnourished children. They are packaged in small pouches that contain a formula consisting of rice, extruded soy nuggets, vitamins, minerals, vegetarian chicken flavoring and dehydrated vegetables.
"My job is to arrive when the event starts and coordinate volunteers," said Ursula Maley, mobile pack supervisor for Feed My Starving Children. "The meals will be packed in boxes and loaded on supply trucks headed to Illinois. A container will leave from there next Tuesday and be taken by rail to a port and then sent to Haiti, Guatemala, and Somalia."
In total, 12 shifts of 400 people working two-hour shifts are scheduled to volunteer between Friday and Sunday.
"This is the single biggest call to our congregation, and the vast percentage of our people are somehow invested," said Powell. "We believe Jesus wanted no one sitting in the bleachers."

For more information about A Million Meals, go to the NorthRidge website. To learn more about Feed My Starving Children, go to www.FMSC.org.