Posted on
Sat, Dec 10, 2011 : 12:12 p.m.
The Education Project has increasing need to serve more than 700 homeless students in Washtenaw County
By Lisa Carolin
An area organization needs help serving its increasing client base — homeless youths in Washtenaw County.
More than 700 Washtenaw County youth up to age 20 have been homeless since the start of the current school year. That's a 30 percent to 40 percent increase from last year, which was a 40 percent increase from the year before.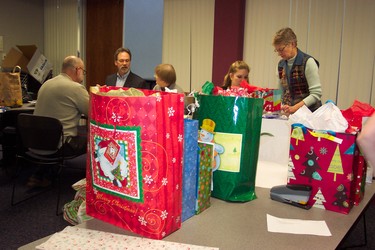 Lisa Carolin | For AnnArbor.com
The Education Project
for homeless youths works to keep those whose families don't have a fixed regular nighttime residence, such as those living in motels, shelters and cars, in the same school district all year.
The Education Project is based at the Washtenaw Intermediate School District on Wagner Road in Ann Arbor.
"We focus on educational needs and the items students need to be comfortable to succeed in school," said Peri Stone-Palmquist, program manager for The Education Project, adding that changing schools during the year can cause kids to fall behind by four to six months.
This holiday season, The Education Project is reaching out to people in Washtenaw County for donations following a 30 percent cut in state support that began in October. In addition, Stone-Palmquist says that unemployment, under-employment and lack of affordable housing have added to the needs of people in the county in the past few years.
"Half of the homeless people in Washtenaw County are families with young children," said Julie Steiner, executive director of the Washtenaw Housing Alliance. "The need is overwhelming and continues to rise all the time because we don't have enough affordable housing in this county."
For a single parent with two children to afford housing, food, child care, health care, transportation, clothing and other personal care in Michigan, the income needed is $21.33 an hour, Steiner said. In Washtenaw County, the most expensive county for housing in the state, that figure is $27.61 per hour.
The Education Project always needs new or gently used (and cleaned) winter coats, new packages of socks and underwear, black backpacks, zippered pencil pouches and solar-powered scientific calculators. People can also sign up to be part of the Angel Network, through which Stone-Palmquist communicates unusual needs that arise, everything from bicycles to alarm clocks, and anyone who chooses to can donate. To participate, contact Stone-Palmquist at pstone@wash.k12.mi.us.
Currently a drive is underway for winter coats of all sizes at Victory Lane Quick Oil Change which is offering $10 off the cost of an oil change in exchange for a coat.
"This is our main project," said Derrick Oxender of the Ann Arbor Kiwanis Morning Edition. "It's an easy thing to do. We don't want to see any kids who are cold."
Cindy Strang, an insurance agent for State Farm in Dexter, has been running coat drives and also held a coat party.
"We collected more than 60 coats for The Education Project," said Strang. "It's rewarding because Peri knows what she needs and who needs it, and that makes you want to hurry up and do it."
Steiner reminds parents that it's not unusual these days for children in Washtenaw County to have classmates who are homeless.
"It's important that parents help children to understand that when kids appear different- are absent a lot, can't concentrate, or have hair and clothing that are messy- one distinct possibility is that they are homeless," said Steiner. "When you're living paycheck to paycheck, it just takes a little incident to make you lose your home. We have a responsibility to make sure that everyone has a place to live. Everyone has a right to have a place to live."
For information on housing, Washtenaw County has what Steiner calls "a single point of entry" by calling the Housing Access Program at 734-961-1999.