Detroit Free Press:

Michigan's 15 public universities boasted 51,000 out-of-state students in 2011

Posted on Mon, Jun 25, 2012 : 11:36 a.m.
Last fall roughly 51,000 nonresident students attended classes at Michigan's 15 public universities.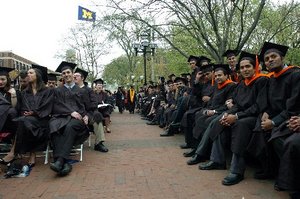 Lon Horwedel | The Ann Arbor News
According to the Detroit Free Press
, that's 20 percent of the total enrolled students at Michigan's public universities. It's also a 3,000-student increase from fall 2010.
With nonresidents making up 34 percent of its student body, the University of Michigan hosts the highest number of out-of-state students. U-M officials told the Free Press that the number has remained level over the past few years.
Enrolling out-of-state students helps schools increase their demographic diversity and raise revenue during tight budget years, the Free Press reported. The newspaper found that, on average, out-of-state students pay $12,000 more in tuition than in-state students.
Last week the U-M Board of Regents increased tuition and fees for nonresidents by 3.5 percent. The $1,340 per-year hike brings the yearly tuition and fee rate for nonresidents to $39,122. However, some of the revenue generated by the increase will be vested in nonresident financial aid.
Meanwhile, tuition increased $360, or 2.8 percent, for in-state students, bringing the cost to $12,994 per year.