Posted on
Fri, Oct 21, 2011 : 1:03 p.m.
Nurses, University of Michigan reach tentative agreement on contract
By Juliana Keeping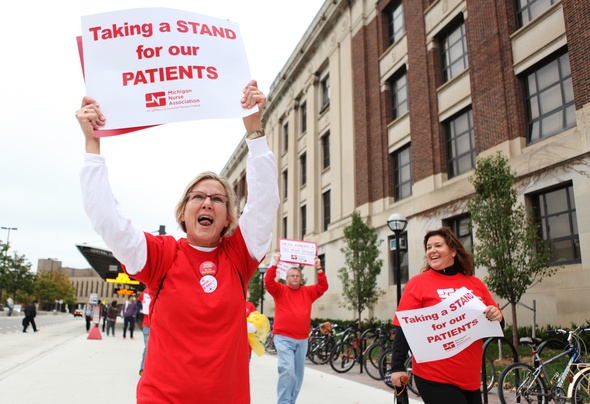 Jeff Sainlar I AnnArbor.com
The University of Michigan's 4,000 nurses have reached a tentative agreement with their employer today, according to an update on the
nurses' web site.
The two sides are expected to finalize the language of the new contract Monday after meeting more than 40 times since April in a contract battle that involved marches and pickets, the threat of a strike and intervention by the Michigan Employment Relations Commission. The two sides last met on Thursday for a bargaining session that stretched into the early hours today.
Disagreements have involved the nurses' contributions to health insurance premiums, paid time off and overtime.
Next week, the nurses will announce its plans for a ratification vote on the contract.
A representative from the Michigan Nurses Association, the organization bargaining on behalf of the nurses, could not immediately be reached for comment Friday.
The health system confirmed the news posted on the nurses' web site and said it will have more information to share after the ratification vote.
Read the announcement below:
We are pleased to announce that we reached a tentative agreement with UMHS at 2:30 am. The entire bargaining team supports and recommends this agreement for member approval. Some of us will be meeting with a subgroup of the management team to finalize the language of the agreement on Monday. We will be meeting with our Second Table on Thursday. After the Second Table meeting, we will announce ratification meeting dates, times and locations. As in the past, the details of the package will be released and posted on the website at the time of the first ratification meeting.
Juliana Keeping covers general assignment and health and the environment for AnnArbor.com. Follow special project Viking's War on Facebook and Twitter
Reach her at
julianakeeping@annarbor.com
or 734-623-2528.
Follow Juliana Keeping on Twitter