Posted on
Fri, Jun 7, 2013 : 1:09 p.m.
'OccuPIE' effort returns to Ann Arbor amid nationwide tour
By Bob Needham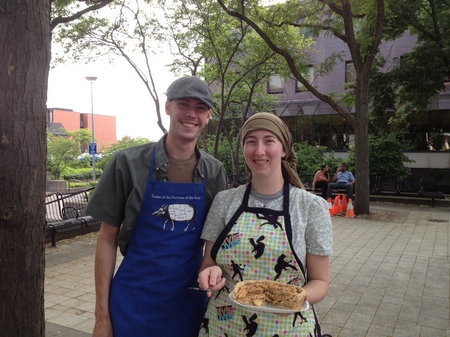 Bob Needham | AnnArbor.com
There's nothing half-baked about the
OccuPIE movement
.
Sarah Fertig and her boyfriend, Chris Kovac, started their efforts last year. Each Wednesday, they would spread their message about the power of generosity and sharing by giving away slices of homemade pie in downtown Ann Arbor's Liberty Plaza.
They haven't been around Liberty Plaza lately. But they haven't given up—actually, they've only deepened their commitment. For the past three months they've taken OccuPIE on the road, continuing to "pie it forward" all across the western U.S. And they're just getting started.
Wednesday brought Fertig and Kovac back to Liberty Plaza for a stop back at home base, giving out another six homemade apple pies back where it all started. Soon, they plan to return to the road, with an even more ambitious travel schedule. And after that? Fertig says she'd love to create a "donation-based pie cafe" in Ann Arbor.
Traveling in a 1999 Silverado with a custom camper on the back, Fertig and Kovac have already covered close to 8,000 miles, making 12 stops along the way—San Francisco, Portland, Chicago, and so on—handing out pieces of pie and spreading the word. (The journey has been detailed on the OccuPIE blog and Facebook page.)
Because of family ties, they started by heading to California, then set the rest of the itinerary by figuring they wanted to head back east and wondering, "What's the most interesting way to do that?" Fertig said on Wednesday in between serving slices.
The trip has been funded entirely by donations; while both of them had jobs before leaving, "Now this is our job," Fertig said with a smile.
Reception to the pie tour has been great, she said: "People coast to coast love pie."
The two are in this area for a week, with another event set at the Unitarian Universalist congregation in Brighton after Sunday's 10:30 service. Then, it's back on the road.
They plan to make 30 or so more stops between now and the end of October, with events almost every Wednesday and Saturday—including Newtown, Conn., and Boston. Word is spreading through the help of Reddit and some media coverage, so most of the itinerary is already set.
They usually give away 6 pies at each stop, and Fertig said they've even improved their pie-making process: For one thing, they're now doing homemade crusts, and efficiency has been improved with the introduction of an apple peeler / corer they call "the mangler." "Having the right tools makes all the difference in the world," Fertig said.
Once they finish the tour, Fertig said they hope to give their movement a long-term home. The vision is to open a "pie cafe" in Ann Arbor—set up as an official nonprofit organization, funded by donations, and offering a wider range of pies beyond apple (shepherd's pie and so on).
"We really miss Ann Arbor and we really want to become part of this community again," Fertig said.
Somehow, they make it easy to believe it can happen.
For more information or to donate, see the OccuPIE blog.