Posted on
Sat, Jan 14, 2012 : 12:50 p.m.
MLK Day march to Rick Snyder's Ann Arbor area home planned in protest of emergency manager law
By Ryan J. Stanton
The Rev. Charles E. Williams II says he plans to march hundreds of people into Gov. Rick Snyder's neighborhood outside of Ann Arbor on Monday.
"You can expect hundreds of activists from all over the state of Michigan and some from Ohio and Indiana to converge onto Geddes Road where we will march to the governor's house, delivering to him a letter letting him know that we stand against Public Act 4," said Williams, pastor of the historic King Solomon Baptist Church in Detroit.
Public Act 4 is Michigan's new emergency manager law, which was approved by the Republican-controlled state Legislature last year and signed by Snyder.
The law, which allows state-appointed emergency managers to remove local elected officials from office, is viewed by many Democrats as a threat to democracy.
Monday's Occupy for Democracy rally purposely falls on the Martin Luther King Jr. holiday, and Williams and others plan to honor King's legacy by protesting the law.
"We want the governor to change his mind, and hopefully he sees that there is an uprising of folks across the state — particularly from urban areas — who really care about democracy," he said. "We feel that democracy is at stake, because anytime you cannot choose the destiny of your city, who your elected officials are — be it your mayor or city council or city manager, which is chosen by way of the city council — we feel that is a challenge to democracy."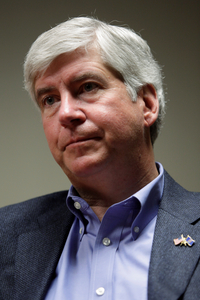 A flier for the event puts it more bluntly: "Alert: Gov. Rick Snyder is stealing your vote, busting your union, and turning Michigan into a dictator state!!"
In response to the proposed plans by activist groups to demonstrate outside Snyder's personal residence in Superior Township, the Michigan State Police Brighton Post says it has gone to great lengths to ensure appropriate security measures are in place.
Working closely with the Ann Arbor Police Department, Washtenaw County Sheriff's Office and Washtenaw County Road Commission, as well as protest organizers, state police officials say a security plan has been developed that allows demonstrators to exercise their constitutional rights while taking into consideration traffic safety and crowd control concerns.
State police also are advising there is no shoulder or parking area along Geddes Road, so no one should expect to be able to park within the proximity of the demonstration.
The coalitions of leaders called Occupy for Democracy have been organizing across the country and Michigan to mobilize people for Monday's rally. It's expected there will be buses shuttling people to Ann Arbor from at least 10 different locations around the state.
Sara Wurfel, a spokeswoman for the governor, said Snyder fully supports the rights of citizens to express their beliefs.
"It's part of democracy in action," she said, commending the various public safety agencies and organizers for working together to ensure a peaceful demonstration.
"At the same time, there's been so much misinformation on the emergency manager law," she said. "We just hope that people will take time to consider the full picture of the crises and dire circumstances we're facing in some of these communities."
Wurfel said the last thing Snyder wants is to have to appoint emergency managers, as he views that as a failure point, but he also has a responsibility to ensure the health, safety and welfare of citizens are protected, and the alternatives are far worse.
Snyder and his treasury director have called for review of the city of Detroit's finances to start the process of implementing an emergency manager.
Snyder has taken steps to appoint a financial review team as the city ends the final step before an appointment of a manager, which many Democrats fear will give power to a governor-appointed bureaucrat with Republican leanings to administrate over the city, cutting collective bargaining agreements, selling assets and dismissing elected officials.
The Rev. Al Sharpton, president of the National Action Network, is expected to attend a press conference before Monday's rally. He issued a statement of support, saying his group will further organize efforts to defeat similar legislation in the works in Indiana and Ohio.
Williams, leader of National Action Network's Michigan Chapter, said he's not expecting to go up to Snyder's doorstep or even talk to him on Monday.
"Our best expectation is that he will have a representative from his office there and available to receive the letter," he said. "We think he just doesn't understand how passionate people are about democracy, and we want to make sure he understands that we really want him to rethink Public Act 4 and putting emergency managers in place of elected officials."
Williams fears what an emergency manager might mean for Detroit, a city that's in a process of trying to reinvent itself.
"Specifically for my city, it means that an emergency manager will come in and he will sell assets. He will cut-kill-destroy collective bargaining agreements," he said. "He will worsen city services by cutting city services. All of the things we fight to try to keep.
"So we'll run into things like lights being cut off in areas, garbage not being picked up in certain areas of the city," he said. "But most of all what's going to happen is our vote will be disenfranchised. We elected a mayor. We didn't elect an emergency manager."
Monday's rally starts at 4 p.m. Organizers are asking people to park at Washtenaw Community College at 4800 East Huron Drive and then either walk to the rally point or take a shuttle.
Ryan J. Stanton covers government and politics for AnnArbor.com. Reach him at ryanstanton@annarbor.com or 734-623-2529. You also can follow him on Twitter or subscribe to AnnArbor.com's email newsletters.