Posted on
Sun, Feb 27, 2011 : 5:59 a.m.
Officials plan for detours, football traffic before Stadium bridge reconstruction this fall
By Tom Perkins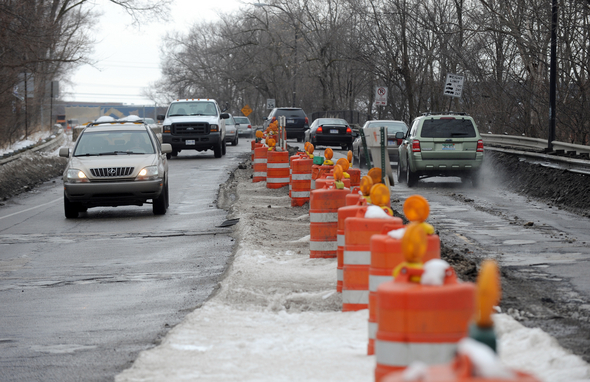 Lon Horwedel | AnnArbor.com
During each home football game this fall at the
University of Michigan
, upwards of 110,000 fans will converge on the
Big House
. But in 2011, one of the main arteries to the stadium will be closed.
Officials expect to begin reconstruction of the East Stadium Boulevard bridge this fall after an initial planned spring start, and that means some football fans and the approximately 25,000 drivers using the bridge daily will have to seek alternate routes.
Homayoon Pirooz, head of the city's project management department, said the official detour will take westbound Stadium traffic to southbound South Industrial Highway. From there, drivers will travel west on Eisenhower Boulevard, then back north on Main Street. Eastbound Stadium traffic would take the same route, but in reverse order.
The intersection at Main and Stadium will remain open, but the lanes to the east will be available only to local traffic. Construction will start at the intersection of Stadium and Kipke Drive, which is a campus road.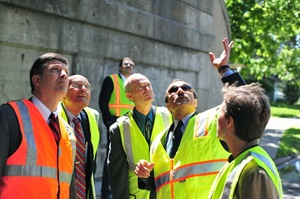 Ryan J. Stanton | AnnArbor.com
Pirooz said officials hope to keep one lane of
State Street
open throughout most of the project, but the road may totally close while the old bridge is torn down.
A State detour would likely take northbound traffic east on Stimson Street, north on South Industrial and east on Stadium. The detour would then take traffic north on Packard Road and west on Granger Street.
Pirooz said more specific dates and closure schedules will be provided after the city holds a public meeting on the issue and has a schedule from a contractor. He said the detours reroute traffic through major city roads which can handle the increased volume.
He added that Stadium, in that area, sees more through traffic, and officials are expecting a significant portion of the 25,000 drivers to use alternate east-west routes, such as Interstate 94.
U-M spokesman Rick Fitzgerald said multiple departments are working on managing traffic and crowds for the Saturday football games and other sporting events in the area. Crisler Arena, Yost Ice Arena and most of the school's other athletic fields are in the area.
Fitzgerald said it's too early to provide specifics on alternate routes, but Michigan football season ticket holders will likely be notified of suggestions when their tickets are mailed.
"The university is working with the city and keeping up to date on the situation," Fitzgerald said. "We're in the process of reviewing a number of potential alternate routes that we would suggest to athletic patrons and season ticket holders. Once those routes are solidified, we will vigorously communicate those suggestions."
While there are no major parking lots east of the Stadium bridge, some fans and pedestrians still approach the stadium from that direction. Fitzgerald said the university will take them into account.
Ann Arbor Transit Authority officials say they can't yet provide plans for managing their bus lines during construction but are looking at options.
Along Stadium, the closure will affect Route 14, which runs from Geddes Road to a park-and-ride lot at Pioneer High School.
Ron Copeland, an official with the AATA, said the main stop affected along Route 14 would be at the park-and-ride lot west of the bridge.
The 6 and 36 routes would also be affected along State. Copeland said buses on those routes would likely use the posted detour, though officials are waiting until a closure schedule is provided by the city to offer further plans.
The area around the Stadium bridge is largely residential, with U-M property to the north. A golf course occupies much of the land to the southwest, and just southeast of the area is the Produce Station.
Andy Gorsuch, a general manger there, said the store has strong customer loyalty, but the construction could have an impact on their business.
"Obviously we're understanding that it's necessary to fix the bridge, because it's not in good shape," he said. "We're definitely concerned how that will affect our business, but we don't have any kind of contingency plan other than to keep doing what we do — taking care of people and thanking them when they do come here."
Tom Perkins is a freelance reporter for AnnArbor.com. Reach the news desk at 734-623-2530 or news@annarbor.com.