Posted on
Thu, Mar 7, 2013 : 4:16 p.m.
Officials: Fire causes an estimated $35,000-$50,000 damage to Ann Arbor duplex
By John Counts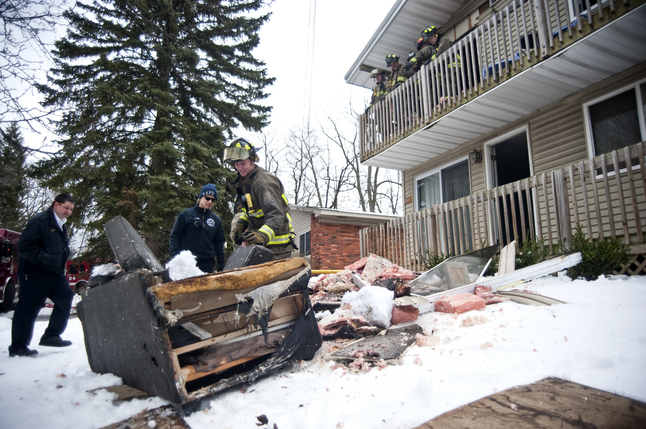 Joseph Tobianski | AnnArbor.com
A fire that was quickly extinguished caused heavy damage to an Ann Arbor duplex Thursday afternoon, officials said.
The fire was reported around 2:20 p.m. at a two-story duplex at 105 Allen Drive.
"We got here and there was fire coming out of the second-story," said Ann Arbor Fire Department Battalion Chief Robert Vogel.
Fire crews extinguished the blaze in less than 10 minutes.
"This was one of our bread and butters, we call them," Vogel said. "You pop the door. It's right there, you hit it."
The fire was contained to the second story, which sustained the most amount of damage. Soon after the blaze was out, firefighters were pulling an armchair and sofa out a charred window and dropping the ruined furniture from a second-floor patio onto the front lawn of the duplex, where other debris lay.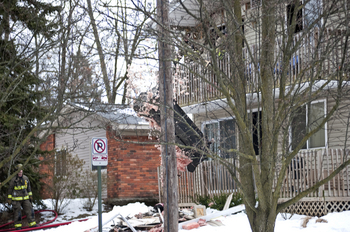 Joseph Tobianski | AnnArbor.com
The first resulted in heavy smoke and water damage on the first floor. The building's owner, who did not wish to be identified, was at the scene and said the building was not habitable. He was still in the process of contacting the woman who lived in the upper unit and the man who lived in the bottom unit.
No one was home when the fire broke out and there were no injuries. But Vogel said there was "heavy, heavy damage," which he estimated to be between $35,000 and $50,000.
The cause of the fire was not immediately known, but officials were investigating.
Elizabeth Piranian, who lives next door, said she came home at 2:30 p.m., went inside for a few minutes, and came out to clear some ice from her driveway and saw that fire crews were in front of the neighboring duplex.
"I didn't see any flames, but I saw smoke," she said. "The fire department was already here. They got it under control."
John Counts covers cops and courts for AnnArbor.com. He can be reached at johncounts@annarbor.com or you can follow him on Twitter.