Posted on
Sun, Dec 25, 2011 : 5:58 a.m.
Ann Arbor officials offer mixed reactions to ICMA study highlighting fire department's challenges
By Ryan J. Stanton
Ann Arbor officials say they're still digesting a new report that says the city's fire department should make it a top priority to respond more quickly to fires and other emergencies.
The department fails to meet national standards for response times and there's "a significant fire problem within the city," according to a draft report from the International City/County Management Association released by the city this past week.
The 63-page study, which was several months overdue, cost the city about $54,000. So far, reactions to the report are mixed.
"I think there's new information in there that can help the fire department and that's where this will start," said Mayor John Hieftje, offering mostly positive reaction to the report.
Council Member Sabra Briere, D-1st Ward, called the report "pedestrian" and said it lacked the level of depth she expected.
"It wasn't very exciting to spend all this money to be told we need to improve reaction time, and beyond that it's things like consider pickup trucks with foam and reorganize your benefits for the firefighters so you're not paying for their meals," she said.
"I was actually expecting more out of it," she said. "I was expecting something that talked about how to reorganize, because that was, I thought, the whole point."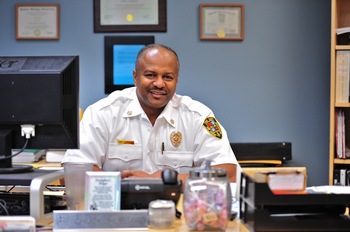 Ryan J. Stanton | AnnArbor.com
Multiple council members said they haven't yet had a chance to analyze the report, but they're looking forward to hearing what Fire Chief
Chuck Hubbard
and Police Chief
Barnett Jones
, the city's safety services administrator, have to say about it.
Jones could not be reached for comment. Hubbard, who is on vacation, left AnnArbor.com a voicemail on Friday saying only that there is some inaccurate information in the report.
"They are sending out a final version, which has some corrections in it," he said. "An example would be the response time part. What they wrote was incorrect on this last draft."
Donald James, senior manager of ICMA's Center for Public Safety Management, said on Friday that a mistake was made and the wrong report was released to the media. He said a revised version with corrections was submitted to the city on Thursday afternoon.
AnnArbor.com has requested a copy of the new version.
"The things that were most controversial in the report were changed based upon the comments made on behalf of the fire department and the city," James said, adding that included clarifications around certain statements and response times.
James said there are differences between how the city looks at response times and how the National Fire Protection Association looks at them. AnnArbor.com discovered earlier this year that the city calculates response times differently than NFPA.
Briere said she's not convinced the city even keeps accurate enough data to calculate response times appropriately, and she hopes that can change.
The draft report from ICMA suggested the fire department isn't meeting NFPA-recommended response time standards, as well as standards for "turnout time" — the time it takes firefighters to jump up and get ready. The report recommends the city consider upgrading station notification systems and monitor crew turnout performance.
According to ICMA, the method of communication between the dispatch center and the fire station might be causing a delay in getting units out of the station faster.
Matt Schroeder
, president of the Ann Arbor firefighters union, said he's skeptical of some of the report's findings. He noted that ICMA, which was hired this spring, studied the department's staffing levels from two years ago, when it had 94 full-time employees.
The department has gone through two rounds of cuts since then, dropping staffing levels down to 82 full-time employees. That's the level budgeted this year, and Schroeder said the actual number is even lower since a handful of people left the department in recent months.
The ICMA report doesn't mention that on most days at least one of two active fire trucks at Ann Arbor's downtown fire station is listed as "out of service" due to low staffing levels.
In evaluating runs by different companies in the fire department, the report also fails to take into account the department's busiest company, Schroeder said.
"We have some big concerns about that study," he said.
James declined to comment on concerns about the study, saying only that ICMA completed the scope of work that the city requested.
Schroeder said the union is interested in working with the city on improving fire services, but that discussion needs to be based on accurate information.
"We're concerned about the safety of the citizens," Schroeder said. "The city needs to decide what level of protection they want and we need to make sure our firefighters are safe in the way they do their job. That's the interest that we have."
The union is still of the opinion that the city has cut too deep into fire department staffing levels in recent years. The current plan is to trim another five positions in the spring.
The ICMA report suggests ways the department might be able to further reduce staffing levels and be more efficient. It recommends new deployment methods and technologies, including using "quick response vehicles" equipped with a new foam technology — and manned by two firefighters instead of three — when responding to some calls.
ICMA recommends the city consider that to reduce staffing by one firefighter at Station 3, 2130 Jackson Ave., and also at Station 4, 2415 Huron Parkway.
But the report also says the department should increase public education about fire prevention, including about smoke detectors, and the city should consider hiring civilian employees for fire inspector and public education specialist positions.
Hieftje said he thinks that's a good idea.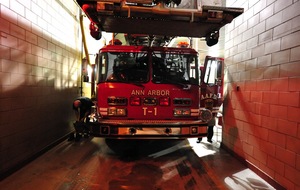 Ryan J. Stanton | AnnArbor.com
ICMA also recommends the city make serious efforts to seek concessions from the firefighters union, including on health care, food allowances and tuition reimbursement. According to the report, the city has been spending about $90,000 a year on firefighter food allowances.
The city could save hundreds of thousands of dollars if the contract changes recommended by ICMA were made. City officials say they've been trying unsuccessfully for years to get those concessions, and negotiations between the city and the union are at a standstill now.
"We're still in the mediation process and arbitration is looming," Schroeder said. "We're willing to talk to the city but the city has chosen not to talk to us."
Hieftje didn't disagree with the report's finding that there's a significant residential fire problem in Ann Arbor. City officials have attributed some of the problems to the city's aging housing stock, including rental houses occupied by University of Michigan students.
"I think it's been pretty well known for years," Hieftje said. "Particularly with the student population, fire inspectors will go into a property and there's 12 plugs in an outlet, and there's smoke detectors where the batteries have been taken out of them."
The fire department responded to 278 fires last year, 116 of which were reported as structure fires. Of those, 101 happened inside homes or apartments.
Those fires killed two people and caused an estimated $1.3 million in property damages last year, records show. Most of the damages — $1.24 million worth — happened to homes and apartments, while businesses and other buildings were less affected.
"The fire problem would need an education program," Hieftje said. "I think the city probably could be doing a better job of education, but to do that we would probably have to couple with the university because they have greater access to students."
Hieftje said he thinks the ICMA report contains "a lot of good information," and he's interested in looking at the recommendations to improve operations.
"I also saw that we need to take a look at some delays that may be occurring in dispatch, and there may be some delays in getting firefighters out of the station and on the road," he said. "That's not a staffing issue. That's an issue of speeding up the process."
Hieftje said he's discouraged the report arrived several months late, but he's glad city officials have it now as they look to next year's budget. He said the city has a plan to avoid further cuts in the police department, but there's still work to do on the fire side.
"One of the key elements on the police side was a new contract," he said. "And I think that will be a key element on the fire side in terms of how many positions we can save."
Added Hieftje: "And I would like to save all of them."
Ryan J. Stanton covers government and politics for AnnArbor.com. Reach him at ryanstanton@annarbor.com or 734-623-2529. You also can follow him on Twitter or subscribe to AnnArbor.com's email newsletters.