Posted on
Thu, Oct 27, 2011 : 5:58 a.m.
Ann Arbor officials speak to pedestrian safety ordinance, sexual assaults at Old West Side forum
By Kyle Feldscher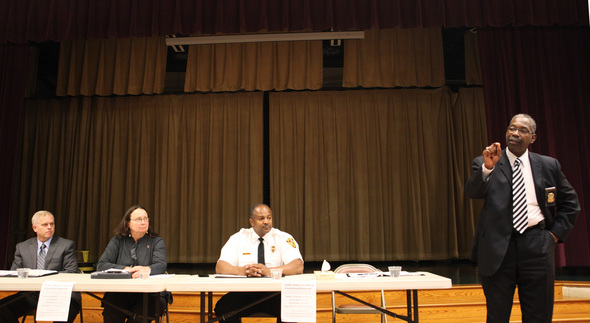 Jeff Sainlar I AnnArbor.com
Ann Arbor residents are worried about public safety funding, the investigation into the sexual assaults this summer and other safety issues.
However, the issue that occupied the most discussion time at a public safety forum hosted by the Old West Side Association Wednesday was the new pedestrian safety ordinance the city began enforcing earlier this fall.
A panel consisting of Ann Arbor police Chief Barnett Jones, Ann Arbor fire Chief Chuck Hubbard, Ann Arbor Fire Marshal Kathleen Chamberlain and University of Michigan police Chief Greg O'Dell answered questions about each of their departments and various situations facing each of them at the meeting.
However, the lengthiest discussion came when a resident asked about the new pedestrian safety ordinance.
Jones passed the question along to Mayor John Hieftje who said the city's new ordinance is literally a step further than the state's pedestrian law, which requires vehicles to stop for any pedestrian in a crosswalk.
The city's ordinance requires vehicles to stop for anyone about to enter a crosswalk. Hieftje said the city wrote the ordinance that way so people wouldn't have to physically get in front of a car to make them stop.
"There is an effort to make the city more pedestrian friendly, and the police have been cooperating on that," he said.
One resident told the officials that he had stopped at a crosswalk for a child who was heading to school. However, a driver going in the opposite direction did not obey the ordinance so well and nearly hit the student. The resident said he was concerned that the community would not buy into the ordinance change and it could lead to a disastrous situation.
Jones said officers have written nine tickets since officers began enforcing the ordinance last month and have been mostly been giving warnings.
He agreed with the resident that a culture change was needed. Jones said his officers could probably sit at an intersection all day and simply write tickets for people who don't obey the ordinance, "but that's not how we do law enforcement in Ann Arbor."
Jones also gave an update on the investigation into the so-called "Ann Arbor rapist," who police have been searching for since a string of sexual attacks began in July.
Jones told the crowd of about 20 people that the investigation is still open and police are investigating more than 650 tips that they have received. He said even though two composites of the potential attacker were developed, police believe they are only looking for one suspect.
"We all knew and believed that there's only one," he said.
He called the situation a police officer's worst nightmare and said the Ann Arbor police are working closely with the University of Michigan Public Safety Department.
He emphasized that since the attacks began in July, the police have caught every copycat criminal or person who has sexually assaulted someone on Ann Arbor's streets.
"For people that started or thought about doing this type of crime since this person revealed himself, we have caught them," he said.
The discussion at the forum also covered how police are working to educate people to protect themselves from crimes, what neighborhood watch programs are in effect, how firefighters decide to enter a burning home and the possibility of combining the Ann Arbor Police Department and Ann Arbor Fire Department into a public safety department.
In addition to Hieftje, new City Administrator Steve Powers and City Council Member Sabra Briere, D-1st Ward, who used to live on the Old West side, were in attendance at the meeting.
Hubbard spoke about the effects that cuts to public safety funding have had on his department. Two years ago, there were 111 employees of the fire department and now that number is 79, he said.
He said the department has had to send more trucks to incidents, such as an accident at the construction site of the underground parking lot in downtown Ann Arbor, because there are fewer firefighters on each crew.
"That's economics," he said. "We have to learn how to work with less."
Kyle Feldscher covers cops and courts for AnnArbor.com. He can be reached at kylefeldscher@annarbor.com or you can follow him on Twitter.