Posted on
Thu, Apr 19, 2012 : 5:59 a.m.
Oil and gas company says it can't promise fracking won't happen in Washtenaw County
By Ryan J. Stanton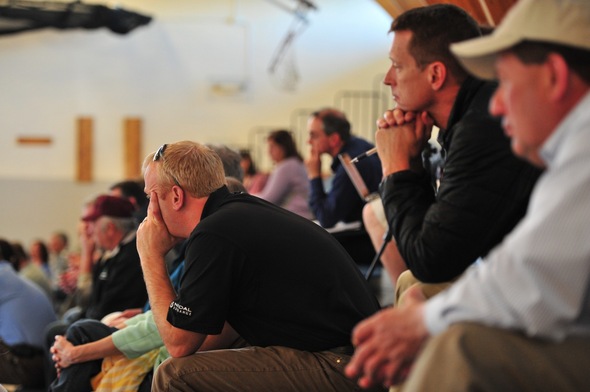 Ryan J. Stanton | AnnArbor.com
An oil and gas company
drilling in the Saline area
says it can't promise it won't ever use the controversial technique known as "fracking" in Washtenaw County.
"No, we can't (promise) that," said Greg Vadnais, the land manager in charge of mineral rights lease acquisition for Gaylord-based Paxton Resources.
"We do have partners. We're bound by these partners to maintain a certain level of latitude."
Vadnais and two other representatives of Paxton Resources attended a town hall forum attended by about 125 people Wednesday night in Saline.
Relaying a question from the audience, moderator Lucy Ann Lance asked if Paxton would sign a binding legal document stating it would not frack in Washtenaw County.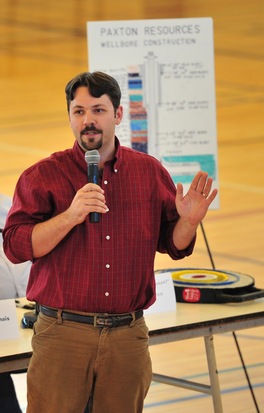 Ryan J. Stanton | AnnArbor.com
Vadnais quickly responded no.
He said the company isn't doing any fracking in Saline, but it operates a number of wells in northern Michigan where fracking has occurred.
"There's nothing that restricts us from fracking. I'm not going to play around with that," he said.
"But at some point we just have to come to an understanding that we're drilling oil wells here in Trenton limestone," he added. "We're not exploring for shale gas. We've got 4 trillion cubic feet of gas I think stored in Michigan right now and we're running out of places to put it."
The fast-spreading technique called fracking, or hydraulic fracturing, is a procedure that drilling companies use to recover natural gas and oil from reserves deep below the earth's surface.
It involves pumping a high-pressure mixture of water, sand and chemicals down a drilled well, which causes the surrounding rock to fracture, and then enables gas or oil to flow back.
Fracking has become a political hot-button issue with state and federal officials discussing how to regulate the practice as environmentalists sound the alarm on its risks.
The U.S. Environmental Protection Agency released new standards on Wednesday that include the first federal air rules for natural gas wells that are hydraulically fractured. The rules require operators to implement technologies by 2015 that the EPA says will not only reduce 95 percent of the harmful emissions from the wells that contribute to smog and health problems, but also enable companies to collect additional natural gas that can be sold.
Wednesday's town hall meeting was organized by state Rep. Mark Ouimet, R-Scio Township, who said he wanted to bring together advocates on both sides of the issue.
Mitch Rohde heads up the "No Paxton" protest group, which argues Paxton Resources has signed mineral rights leases with several area homeowners in Saline, Lodi and surrounding townships that allow the company to test, drill and extract oil, gas or any other minerals it might find "using methods that can destroy the local environment for profit."
"The group No Paxton is not anti-oil," Rohde said. "It is more that we have concerns about what's going on in terms of our area and drilling in residential places. That is one of our main concerns. We don't necessarily want it in places where lots of people are living."
Rohde was one of six panelists who spoke at Wednesday's forum inside the gymnasium of Liberty School in Saline.
Ryan J. Stanton | AnnArbor.com
He and
James Clift
, policy director for the
Michigan Environmental Council
, sat opposite from the three Paxton Resources representatives. In the middle was
Hal Fitch
of the
Michigan Department of Environmental Quality
, who defended fracking.
Fitch said Michigan has a successful history of commercial drilling dating back to 1925 and fracking is a safe and proven process that's been going on since the 1950s.
"We've had some 12,000 wells hydraulically fractured in Michigan and we've not had one incident of water contamination or environmental impacts associated directly with fracturing, and that's the case nationwide actually," Fitch said. "The administrator of the EPA has made that statement. There's no link to groundwater contamination directly from hydraulic fracturing."
Fitch said the Michigan DEQ has a number of safeguards in place to prevent the kind of problems that opponents are concerned about. For starters, he said, the DEQ has stringent requirements for the construction of oil and gas wells.
"We don't see problems in Michigan from contamination directly from a well bore," he said. "We see a few problems from surface spills, pipeline leaks, things like that."
Fitch said the wells being drilled in the Saline area (by his count, Paxton Resources has been permitted to drill about four or five) do not involve fracking.
"Will it ever be used in the vicinity?" Fitch said. "I can't say it never would, but not on this type of well."
Clift said his group wants to see an orderly development of oil and gas resources in Michigan in a way that protects public health and the environment.
"Let's face it, we're putting our resources at risk whenever we do these developments," he said. "These are not risk-free endeavors. There's always a chance that Michigan's water resources or our public health could be put in jeopardy by one of these operations."
With half of Michigan's residents getting their drinking water from groundwater, he said, it's important to make sure freshwater aquifers are protected for generations to come.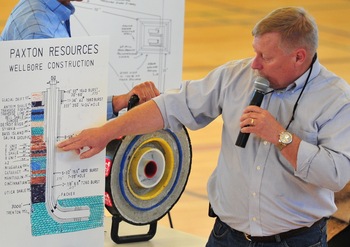 Ryan J. Stanton | AnnArbor.com
"Are we regulating these areas the best we can?" he said. "A lot of the rules and regulations for this industry, they were written 50 years ago … and some of them really haven't been updated very much. To give an example, for 90 days the well driller doesn't have to give any information whatsoever to the state. There's kind of this secrecy period for the first 90 days."
Fitch defended Michigan's regulations, saying the DEQ is doing a good job looking out for public health and the environment. He said the regulations have improved over time.
"Since 1995, we've had a body of rules that requires secondary containment at surface facilities," he said. "You have to have heavy plastic liners under the tanks and the processing equipment. The pipelines that carry the product have to be pressure-tested and monitored."
Fitch said the state also requires assessments of the impacts of water withdrawal, and any flowback that comes out of a well must be contained in steel tanks and hauled to a brine disposal well that's licensed by the state DEQ and U.S. EPA. He said that has to be at a location isolated from freshwater resources so it can't do any damage.
Clift said the regulations could be better.
"This whole idea that we're just going to kind of pump the waste waters and chemicals into the ground — kind of out of sight, out of mind — we think the regulation of those wells could be a little bit more rigorous," he said.
"There's a lot of secrecy here," he added. "What chemicals are being used? What's being put into the ground? I think the public deserves to know."
Rohde said the No Paxton group he heads up includes several concerned neighbors who have been meeting for about the past six months to discuss the issue.
"I will admit that prior to a mineral rights lease showing up at my doorstep, I didn't do too much about it," he said. "I drive a big gas-guzzling truck, so I will put up front that I'm a NIMBY and I am a hypocrite in that way. I apologize for that."
But he said he's thoroughly studied the issue and he's concerned about the potential contamination of water sources that local residents rely on for drinking.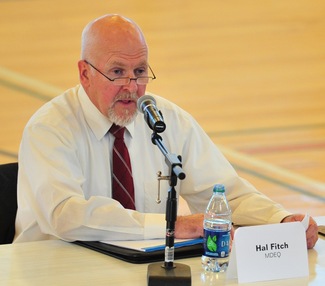 "We're concerned about hydrogen-sulfide gas emissions from these wells," he said, noting that can be toxic and deadly. "We're concerned about breathing it. We don't want it around our house. We don't want to be smelling it on a daily basis."
Rohde pointed to a Dec. 24 incident in which an estimated 135,000 cubic feet of gas — mostly hydrogen sulfide — spewed from a well in Beaver Creek Township in northern Michigan.
"I don't think people plan to have accidents, but they do happen when you're doing this kind of drilling," he said. "The Kalamazoo River (oil spill) certainly wasn't a planned accident. It just happened and they're still cleaning it up to this day two years later."
Vadnais attempted to put into perspective the drilling Paxton Resources is doing in Saline.
"We've only owned this project for about 15 months. We acquired this project, which is actually about six or seven years old," he said, adding a Pennsylvania-based oil company sold the project to Paxton Resources. "There has been oil and gas development in Saline taking place for about six years. There were three wells drilled in Saline prior to our ownership."
Paxton Resources now has about 28,000 ares of leases in the area and about 25,000 of those were purchased from the previous company, Vadnais said.
"We've taken maybe 3,000 more," he said, adding Paxton Resources has drilled only two new actual wells since taking over the project.
"If we could move faster, I'm sure we'd like to do that," he said, pointing to the slowness of the DEQ's permitting process. "They don't necessarily fire these permits right back."
Partway through Wednesday's forum, Vadnais said he listened to the concerns raised by the opposition and agreed with 99 percent of what was said.
"We don't have a problem regulating this," he said.
Vadnais said his company carries a $15 million insurance policy to make sure everything is covered in case of a catastrophic event.
Fitch said it's usually the responsibility of the well operator to do the cleanup work if that becomes necessary. But he acknowledged there are some old wells in Michigan where the operators are either deceased or went bankrupt, and the Michigan Legislature has to appropriate $2 million a year to address issues with those.
He said some of the older wells didn't have to meet today's standards.
"Those are a little bit riskier," he said. "But the new wells like are being drilled here in the Saline area have to adhere to all of the modern standards.
"The risks are pretty low with our current safeguards," he added. "It's pretty rare that we have a serious contamination problem with today's standards."
Fitch said the drilling taking place in Saline is being done on 40-acre units, and they have to be at least 330 feet from the outside boundary, so there are protections for neighbors.
The Washtenaw County Board of Commissioners is devoting tonight's working session to the issue of fracturing. The meeting takes place at 6 p.m. at 220 N. Main St.
Ouimet said there are just now starting to be serious discussions in Lansing about fracturing but he isn't taking a position at this point.
"Where I am personally on it is I feel it's my responsibility to bring both sides together, so people can listen and learn as they go through the process," he said.
Ryan J. Stanton covers government and politics for AnnArbor.com. Reach him at ryanstanton@annarbor.com or 734-623-2529. You also can follow him on Twitter or subscribe to AnnArbor.com's email newsletters.