Posted on
Fri, Oct 26, 2012 : 9:57 a.m.
Old TVs, computers, refrigerators, tires and other household waste to be collected Saturday
By Amy Biolchini
Washtenaw County residents can drop off their unwanted appliances, furniture, household hazardous wastes and more Saturday at the county's semi-annual Clean-Up Day.
From 9 a.m. to 2 p.m. at Eastern Michigan University's Rynearson Football Stadium at 799 N. Hewitt Road in Ypsilanti, old materials from around the house can be dropped off for safe and sustainable disposal.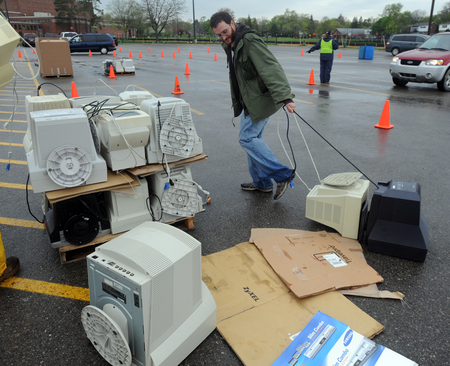 AnnArbor.com file photo
It's the second event of the year the
Washtenaw County Solid Waste Program
hosts for area residents. The first event occurred in the spring in Chelsea.
Acceptable materials include:
Recyclable materials: Plastics, glass, tin, cardboard, paper
Scrap metal
Freon appliances: Air conditioners, refrigerators and more
Household hazardous wastes: Oil-based paints, cleaning supplies, motor oil, mercury, batteries, car batteries, pesticides, fertilizers and more
Furniture
Tires
Electronic equipment: Computers, televisions, toasters and more
Sharps: Diabetic needles, etc.
Car batteries and lead batteries
The event is free and intended for Washtenaw County residents only, as it is funded by local entities: Washtenaw County Solid Waste Program, EMU, Superior Township and, for the first time, the city of Ann Arbor.
Donations of $10 per carload are suggested to decrease the cost of disposal for the Washtenaw County Solid Waste Program.
There are limits on the number of items accepted. Residents can bring one television, one Freon-containing appliance and one computer per car load, but an additional $10 donation is suggested for each additional item.
People can also drop off up to four car tires for free before a donation of $5 per additional tire is suggested.
Amy Biolchini covers Washtenaw County, health and environmental issues for AnnArbor.com. Reach her at (734) 623-2552, amybiolchini@annarbor.com or on Twitter.