Posted on
Mon, Apr 23, 2012 : 5:57 a.m.
On the grow: University of Michigan graduate students work to establish a campus farm
By Janet Miller
Lindsey MacDonald wants to give University of Michigan students, faculty and staff a chance to get their hands dirty.
MacDonald is one of four School of Natural Resources and Environment graduate students working to establish a campus farm on the grounds of Matthaei Botanical Gardens. The farm would bring people from a number of academic disciplines together to plan, implement and work on a small farm while also creating a centralized sustainable food program at the university.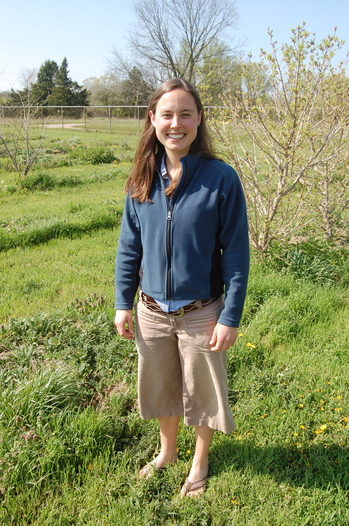 Janet Miller | For AnnArbor.com
At the same time, a campus farm would increase the amount of locally grown food served in the dining halls across campus and could allow students to purchase CSA (community supported agriculture) shares or even supply a new student food cooperative taking root on campus, said MacDonald.
As a first step, a pilot farm - a 250-square-foot plot - is being established this spring at the botanical gardens, on land adjacent to the proposed farm, which currently is unplowed. It will be used to test crops and the harvest will be donated. "It will allow us to get our hands dirty," MacDonald said.
Eventually, MacDonald said, plans include establishing a one- to two-acre farm on the botanical gardens grounds, on land that at one time served as a nursery for the gardens. A farm manager would be hired to run and coordinate the operation, MacDonald said. That could happen as early as next year if funding can be found, she said.
But that's the hitch. MacDonald and the other graduate students won a $42,000 grant that can be used to fund the farm - buy equipment and fund interns to work the farm. But the grant hinges on first hiring a farm manager, a move that could cost between $60,000 and $70,000 a year. MacDonald said they are looking to foundations, alumni and a number of university departments for help with funding.
While the -local food movement has been growing in Washtenaw County, U-M has not moved forward on the idea of a campus farm. The idea of a campus farm has been discussed for at least the past six or seven years, said Bob Grese, director of the botanical gardens and Nichols Arboretum.
Many other college campuses support farm operations, from Oberlin College to Yale University to the University of Wisconsin at Madison. Dickinson College in Pennsylvania has a 50-acre organic farm and some schools are turning their campus farms in to profit centers. Of course, Michigan State University, a land-grant school with a strong agriculture program, has a student organic farm. "We're really behind peer institutions," MacDonald said. A campus farm could be used as a recruiting tool for students, she said.
It would be the first campus farm at U-M, at least in the 26 years Grese has been at the university, he said. There have been a few plots on campus that, over the years, have supported small gardens, such as a small plot run by the student organization Cultivating Community, at the Ginsberg Center. Students in the U-M's Outdoor Adventures program last summer had a small garden that produced locally grown food to take on their adventure trips.
But there's never been anything that goes beyond a small garden, despite growing interest over the past decade. "It's been hard to fit it into and campus landscape, and area that has a large amount of flat land," Grese said.
But the botanical gardens has both.
The farm could serve as a focal point for issues studied across campus, from how food is grown to land use impact to urban food issues. "Food is an evolving issue, and a farm could be integrated across different fields," Grese said. "Having a hands on experience can make all the difference in the world." Areas such as public health, natural resources, business, ecology and urban planning could use the campus farm.
A campus farm would also serve as a hub for other food organizations and issues, supporting films, lectures and other educational events, MacDonald said.
Understanding food issues and a small farm operation would also help students preparing to enter the Peace Corps, Grese said. "U-M is one of the biggest suppliers for the Peace Corps."