Posted on
Tue, Oct 11, 2011 : 2:48 p.m.
U-M grad tries 'extreme job hunting' - and lands an interview
By Kellie Woodhouse
Social media.
By this point, we're all familiar with it. With how it changes the way we communicate and connect, the way we brand ourselves and even the way we plan our weekend.
But a recent example in Ann Arbor shows us that social media has the ability to change something else, too: The way we apply for jobs.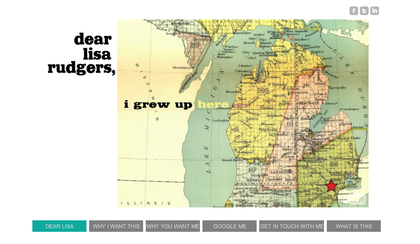 In a world of automated application servers, job applications all too often get lost in an electronic abyss.
Fearful of this black hole, recent University of Michigan grad and hopeful applicant for the just-announced U-M Social Media Director position Lindsay Blackwell launched an online campaign for the job.
Blackwell —who learned of the position by reading an AnnArbor.com article— created a website and launched a twitter and Facebook campaign for the gig, which is advertised as paying between $90,000 and $110,000.
The website, called dearlisarudgers.com, targets U-M Director of Global Communications Lisa Rudgers, her potential boss.
"Maybe you're not Lisa Rudgers. That's cool. Maybe you know somebody who knows somebody who knows Lisa Rudgers," Blackwell writes. "If you're impressed with what you've seen here, do me a favor--tell somebody. Tell your mother, tell your friends, tell your dog. Tell somebody who might tell somebody who might tell Lisa Rudgers."
Blackwell said she immediately had friends assisting her in the unusual effort.
"I had all of these people in my social network e-mailing her and calling her office and posting comments on her blog," Blackwell said in an interview.
And her offbeat campaign worked. Blackwell launched the site at 4:30 a.m. Monday morning. Later that day, Rudgers e-mailed her about setting up an interview, Blackwell says.
"Still freaking out. lisa rudgers wants to schedule an interview. i can't even believe it. but this isn't over until i've got the job!," Blackwell wrote on her Facebook page, which she linked to on her job application website.
The interview is 4 p.m. Monday, according to Blackwell.
"It took off in a way that I never imagined," she says. "I've proven that I'm capable of generating buzz quickly."
Blackwell is far from the only applicant who used unusual tactics to get an interview.
CNN reported last year that a man got a New York City advertising job by buying Google ads targeted to his firm of choice. Other reports describe applicants wearing sandwich boards and sending employers video resumes.
A recent article from the Wall Street Journal calls such tactics "extreme job hunting."
This begs the question: Does extreme job hunting produce extreme results?
Only Lisa Rudgers has the answer. And Blackwell hopes to learn it soon.
Kellie Woodhouse covers higher education for AnnArbor.com. Reach her at kelliewoodhouse@annarbor.com or 734-623-4602 and follow her on twitter.