Posted on
Sun, Jun 16, 2013 : 5:44 a.m.
One of Washtenaw County's most dangerous intersections to get $65K safety upgrade
By Amy Biolchini
Editor's note: This story was edited for clarity as to when Carpenter Road will be resurfaced.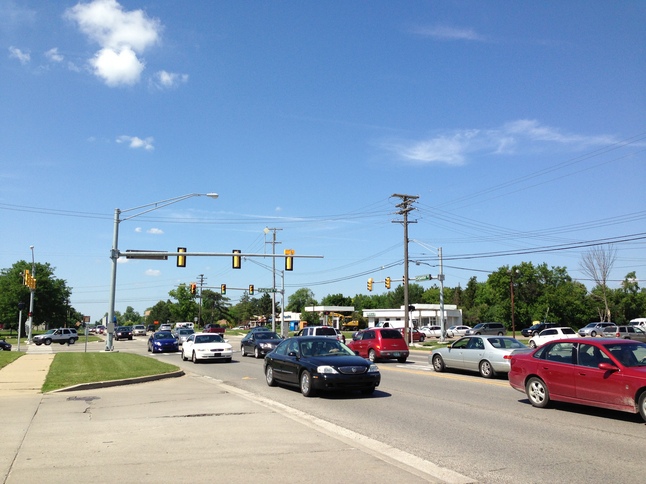 Amy Biolchini | AnnArbor.com
One of the
most dangerous intersections
in Washtenaw County at
Carpenter
and
Packard
roads will get a $65,000 safety upgrade.
Work will begin Monday at the Pittsfield Township crossing, where there were 114 crashes reported in 2011.
The project, which was designed by the Washtenaw County Road Commission, will last until July 3. Though the intersection will remain open during the project, officials warn traffic delays are likely and drivers are encouraged to avoid it.
A small concrete median about two feet wide, six inches high and about 150 to 200 feet long will be installed on the double-yellow line on all four legs of the intersection.
Reflective plastic markers about three feet tall will line the median to increase the night visibility of the new barrier.
The small barrier—similar to what is already in place at the intersection of Golfside and Washtenaw—is intended to prevent people from making left-hand turns other than at the traffic light.
That means that patrons at businesses near the intersection will not be able to turn left out of the driveways on to Carpenter or Packard roads, nor will people be able to make a left hand turn in to the businesses' driveways.
At the intersection, both roads are five lanes. The addition of the small concrete median will mean the lane width is slightly reduced, said Matt MacDonell, senior projects manager with the Road Commission.
Construction will occur on one leg of the intersection at a time, beginning with Packard Road and then Carpenter Road.
During construction, one lane of traffic will be maintained in each direction.
Drivers will still be able to make a left-hand turn at the traffic signal, though the Road Commission warns that the lane reductions will cause significant traffic delays.
The intersection safety project precedes a full reconstruction of Carpenter Road from Packard to Washtenaw Avenue in Pittsfield Township that is slated for 2014.
The reconstruction project will add two mid-block pedestrian crossings but will not affect the new concrete median being installed this summer.
The construction this summer at the intersection is one of several major projects that are in progress and are being coordinated by the Washtenaw County Road Commission:

View Carpenter and Packard intersection safety project in a larger map
Amy Biolchini covers Washtenaw County, health and environmental issues for AnnArbor.com. Reach her at (734) 623-2552, amybiolchini@annarbor.com or on Twitter.