Online voter guide available from AnnArbor.com and MLive.com
Posted on Mon, Oct 15, 2012 : 12:55 p.m.
An online voter guide is now available from AnnArbor.com and MLive.com at http://www.mlive.com/voterguide/.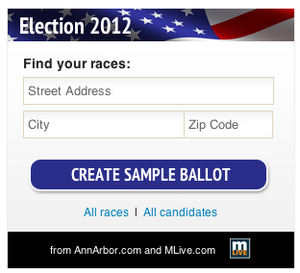 Enter your address to find election information relevant to you. The voter guide also is available on the right-hand side of the AnnArbor.com homepage.
From MLive: For our online voter guide, we asked hundreds of candidates in Michigan to give us information about themselves and respond to questions about issues in their campaigns. Candidates' responses - including spelling, grammar, opinions and "facts" - are their own.
By typing your address in the search form, you can make side-by-side comparisons of these candidates, mark up a mock ballot and add your notes and comments. When finished, you can print out your ballot or email it to others.
Research the candidates and issues in Michigan elections with the Mlive voter guide.
Read more election coverage from AnnArbor.com by following the tag election 2012.