Posted on
Thu, Feb 2, 2012 : 6:58 a.m.
When you find the door open at home, wait for the police
By Rich Kinsey
You just had a nice dinner or movie with your spouse or significant other. While pulling in the driveway you notice something funny about the front door of your home. Even though you know you left it closed and locked — you always lock your door if you heed the warning in the last line of these columns — the door is open. That is odd. Hmmm… time to wake up Mr. or Ms. Citizen!
Back off, watch the front door and call the police…9-1-1…NOW! Do not go inside! Yes, even you with the Concealed Pistol License and the gun on your belt. Back off, disengage, call the police and keep an eye out for anyone coming out of your home.
Stay on the line with the police dispatcher, describe what you see, and try to stay out of sight. Is there a strange vehicle near your home? Do you see anyone around?
Now that you have called the police, wait for them. I guarantee it will seem like forever, but resist the temptation to go peek inside. Stay out and stay on the telephone. The police are coming as fast as they can.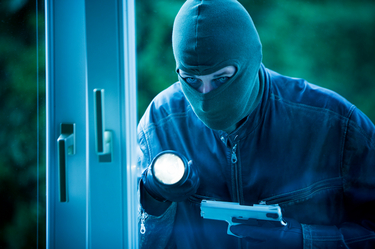 Ginasanders | Dreamstime.com
Once the police arrive, they may ask you a few questions but they will search your home. For your own safety and the officer's safety, stay outside once the officers, deputies or troopers go in to search. The reason for this is that they are trained to do building searches, and they are in uniform. Most of you are neither.
The only "surprise" the officers are expecting is a criminal. You do not want to be mistaken for the criminal if you surprise the officer.
Building searches by their very nature are inherently dangerous undertakings. One of the things I tell recruits in the police academy is that if they are not feeling nervous on a building search, they are doing it wrong or they lack imagination. Lots of things can go wrong in a hurry.
When officers conduct a building search, their firearms will be drawn, and there will usually be a flashlight in the officer's weak hand. The barrel of their guns will be pointing where the officers are looking. That's another reason you want to stay outside while officers are searching. As a rule of thumb in life you should always avoid being on the wrong end of an officer's firearm.
The officers will tell communications they are conducting a building search. That radio channel will be freed of any radio traffic except for the officers searching. This is one aspect of what we call "noise discipline." Do not yell into the house unless you see someone coming out; this is another aspect of noise discipline.
Veteran officers will take a minute when they enter a building to listen to the ambient sounds. There are noises in every home or business. The officer is listening for what sounds belong and what sounds a potential intruder might be making. For instance in warehouses where there are trucks parked, air brakes bleeding air can sometimes mimic footsteps. Burglars make noise, looting houses, working on safes, opening drawers and doors or trying to hide.
Contrary to what's pictured in television police searches, I am a firm believer in turning on lights while searching. Why search with a flashlight while a potential threat is in the dark where you flashlight is not shining? Light switches are usually about 42 inches off the ground near the door of the room to be searched.
The scariest places for officers, in buildings, are stairs. Most of stairs announce, with squeaks, where an officer is, and there is little cover on stairs. The worst are open stairs in basements. There are techniques for "clearing" basements, before using the stairs, but at some point officers will have to go downstairs. The sharper officers will spend as little time as possible on those stairs.
The other places that thinking officers do not like to search, but must, are under beds. It is very hard to search under a bed, especially one attached to a headboard. If a bed is not attached, it is easiest for one officer to lift the bed while the other officer covers.
Beds that cannot be lifted force officers to get down on hands and knees and expose their noggin as they flashlight and look under the bed. Officers sometimes find interesting things hidden under beds. Not to worry, we are professionals and are only looking for intruders or obvious contraband.
After the search you will be asked in to see if anything is missing. Hopefully it was just the wind that blew your door open, but do not take the chance. Always call the police if you find your previously closed door open when you come home, especially if it appears forced open.
Lock it up, don't leave it unattended, be aware and watch out for your neighbors.
Rich Kinsey is a retired Ann Arbor police detective sergeant who now blogs about crime and safety for AnnArbor.com. He also serves as the Crime Stoppers coordinator for Washtenaw County.