Posted on
Thu, Nov 12, 2009 : 6:02 a.m.
"Operation Harbor" aims to highlight a piece of Washtenaw County and U.S. Naval history
By Art Aisner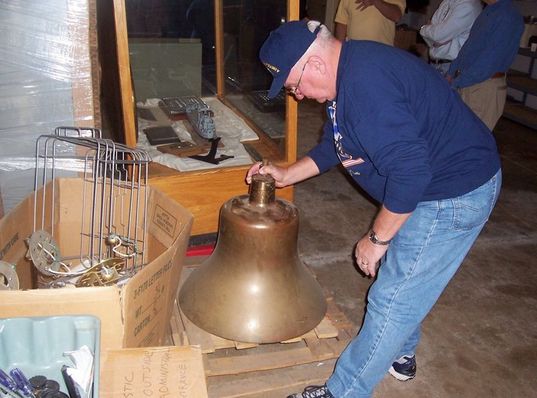 Art Aisner | For AnnArbor.com
Deep within a dim, dusty warehouse filled with old office furniture and outdated copier machines sits a piece of Washtenaw County and U.S. Naval history not many people know about.
And a group of local veterans wants to change that.
"Operation Harbor" is an effort to upgrade and re-commemorate the large wooden case that displays historic items from the USS Washtenaw County. It includes a model of the ship built by Ann Arbor veteran Bill Prince, the ship's wheel, decorative service awards and a 400-pound brass bell.
The display, damaged during the move from the front of the county courthouse in downtown Ann Arbor after security changes in 2005, has remained hidden without a permanent home - despite its prestige.
Washtenaw County officials declared the display case itself an actual historic district in 1981 because it is the only naval ship ever to bear the county's name. There's a widespread belief among former crewmembers that it's the most decorated ship of the Vietnam War. The ship has a commemorative plaque at the U.S. Naval Museum in Washington, D.C.
Usually reserved for buildings and landscapes, the ship's display remains one of 12 historic districts the county has today, but it's the only one you can't find on a map.
"You wouldn't believe how many people are unaware and amazed when I tell them a historic ship in the U.S. Navy was named after Washtenaw County," said George Perrault, a Navy retiree who is heading the operation on behalf of the Washtenaw County Vietnam Veterans of America Chapter 310.
Art Aisner | For AnnArbor.com
Perrault, of Saline, got involved earlier this year after fellow veteran Elmer White, a member of Washtenaw County's Historic District Commission, discovered the display's current condition.
"We were shocked to learn it was in a warehouse," said White, an Ann Arbor attorney who served in the U.S. Air Force. "Why should it sit in a warehouse, dry docked? Let's sail it back to county government, in front of people again."
With the help of county residents Don Miller, Tom Rang and Gary Lillie, the local veterans partnered with former crewmembers led by Tom Osmond of Warren, the only member of the planning committee to actually serve on the ship.
Together, they planned the restoration and design of a new display to be housed in the vestibule of the county offices at 200 N. Main St.
The Washtenaw County Board of Commissioners supported a formal recommendation from the Historic District Commission in May. But faced with a $30 million budget deficit, officials said it can only be done with private funding.
The group has raised roughly half of the $7,500 needed to redesign, build and move the artifacts, Perrault said.
A steep price for a display case in today's economy, but one organizers say is well worth it - not only commemorate the ship's past but keep it a visible part of the county's future.
Distinguished service
The USS Washtenaw is classified as an LST (Landing Ship, Tank,) built in 1953, according to county records.
Over the next 20 years, it received 37 citations and medals, including one Combat Action Ribbon, two national defense medals, and three Presidential Unit Citations -largely for helping pioneer river-based operations in the Mekong Delta.
Known as a "Gator freighter," the ship could land on shore and deliver hundreds of tons of supplies, hundreds of troops and dozens of vehicles.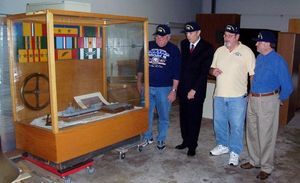 Art Aisner | For AnnArbor.com
Starting in 1967, the ship was primarily used as a supply line for infantry divisions and a home base for about a dozen swift boats that patrolled the rivers, stemming from the Mekong Delta as part of the "Brown Water Navy." Its helipad was also used to treat and evacuate wounded soldiers.
By 1973, the Navy filled the vessel's lower decks with foam and converted it into a mine sweeper that per the Paris Peace Accords, checked Vietnamese harbors for mines planted during the conflict.
The ship survived the assignment with a skeleton crew of about eight, but was decommissioned by the end of that year and was sold for scrap in 1974. It has had a few private owners since then and remains docked in a harbor in the state of Washington, Osmond said.

Local members of the Navy League petitioned to have parts of the ship declared historic artifacts in 1975, and the U.S. Navy officially loaned them for the display. Washtenaw County officials learned that loan agreement expired, and renewals could be jeopardized if the artifacts were not placed on open display.
Melissa Milton-Pung, the county's principal preservation planner, renegotiated loan agreements with the U.S. Navy to retain the materials for the next five years, except for the ship's wheel helm, which was discovered missing during the move from the courthouse.
More than just a display case
Along with the local veterans, "Operation Harbor" has mobilized members of the ship's official veteran association from around the country.
"It's very important to us," Osmond said on behalf of about 300 shipmates. "One of our primary missions is to preserve the ship's prominent place in history as a highly decorated warship."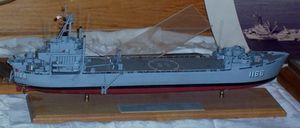 Art Aisner | For AnnArbor.com
One enduring mystery remains: No one can definitively say how or why the ship was christened with Washtenaw County's name. Prior to the mid-1950s, all LSTs were named by numbers only, but the veterans have found no existing record explaining why the ship was no longer named LST 1166.
White suspects it came from one of thousands of naval officers who graduated from the University of Michigan over the years, but no one knows for sure. The group has asked U.S. Rep. John Dingell, D-Dearborn, to try and find out.
"This is county history," Perrault said. "Were not looking at this like it's just a ship project or a Vietnam veteran's project; it's a partnership to get this back up for the county's sake."
Donations are tax-deductible and can be made to the Vietnam Veterans of America
Chapter 310, with LST 1166 in the memo, at P. O. Box 3221Ann Arbor, Mi. 48106.
Any excess funds will be donated to local efforts to provide care packages for troops currently serving overseas.
Art Aisner is a freelance writer for AnnArbor.com. Reach the news desk at news@annarbor.com or 734-623-2530.