Posted on
Sat, Aug 6, 2011 : 5:58 a.m.
Q&A with Nicola Rooney: Ann Arbor bookstore owner talks about why Borders failed
By Lucy Ann Lance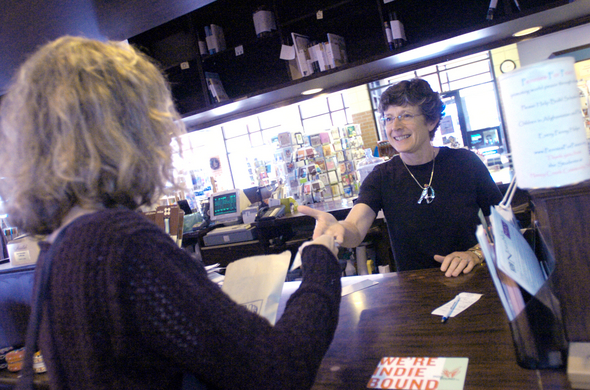 File photo | AnnArbor.com
It's time to bury
Borders
, yet the funeral refrain for the international Ann Arbor bookstore chain continues to echo in a community still hurting by the pull-out of
Pfizer
. Borders was everything we loved about a "townie." Its roots firmly planted in the town where it was conceived by two brothers in 1971.
On 1290 WLBY this past week, Dean Erskine and I talked with Nicola Rooney, who in 1995 bought a small bookstore and began operating it as Nicola's Books. Located on Ann Arbor's west side in the Westgate Shopping Center, the store originally got its start in nearby Maple Village around the same time Borders opened.
Nicola: It's a sad day for the book industry and, of course, for everybody in Ann Arbor and throughout Borders who doesn't really have a job anymore. It is a big change. The book industry is in the middle of some major changes, and some of the difficulties that Borders had go back a long way. This has been something that has been happening very slowly and they haven't seemed to have found a business strategy that would put off this final end, which is most unfortunate.
Lucy Ann: Aside from the obvious, Borders being such a large entity, what is different from how Borders ran its business and how Nicola's runs its business?
Nicola: The major thing is that in a small corporation, everybody is hands on. They're right there; there are no difficulties with knowing what's going on or communication. We talk directly to the publishers. Bill Cusumano knows everyone. He does all my adult buying, and knows all the publishers. Linda Goodman, who does all my children's buying, she reads a lot of the children's books. So we're absolutely hardwired into what's happening in the book industry. We know our customers, so we can make sure that we have the kinds of things that they want. We also have a very good computer system for making sure that if a book sells, whether we're going to get it back into the store again. We try to make sure that the books that the customers want are there on the shelves. With Borders, of course any time you go into being a very big corporation there are layers and layers and layers. You get a lot of layers of management in between the people who actually know the customers and the product on the floor, the booksellers, and the people who are running the company. Borders imported, over the last five or 10 years, many people who did not know the book industry. Many Americans never buy books, so the book buying public is a very special segment of the market. I think they lost touch with that.
Dean: Nicola, do you think that the industry is just going to be smaller independents that are able to make it in certain communities where they have more of an interest in books and reading, like a university community?
Nicola: I think it will depend very much on what a community wants and whether a community understands that if they want to maintain a small independent, then they have to go there and buy stuff. Most people do not appreciate how many customers it takes to keep a business viable. They may be upset when a business goes out of business … (but) if people don't shop there, the business disappears. That's what a free market does for you. They have to value what the independent business offers them. You can buy anything just by going to your computer, but you don't get the same kinds of choices and guidance as when you actually go to a store and look at it and talk to people about exactly what it is that you want it for and then they can help you choose. It's all a question of whether customers are going to continue to value that kind of advice.
Dean: Lucy Ann and I are big proponents of shopping local. I'm seeing more local businesses closing that I never would have thought would close and these are more people losing their jobs. Buying local is getting more important. Huge companies are cutting back their employees and they may never come back again anyway, even if the economy does improve.
Nicola: They may not. Opening a business is always risky. Keeping a business going when it's not doing as well as it used to is less risky than starting a new one. If local businesses continue to hang in there with just enough customers and slowly work out what it is that they need to do to encourage their customers to buy local, and certainly the buy local movement is a lot stronger than it was five years ago, I think the message is getting out to people.
Lucy Ann: Your store is in the Westgate Shopping Center, and you've had a north side location in the past, although you closed that down. Have you thought about putting a Nicola's Books in the old Arborland location of Borders?
Nicola: No, for two reasons, really. Nicola's Books in Westgate is 8,500 square feet and the Borders Arborland and the Borders downtown are three or four times bigger than that. That is too big for a bookstore, because in the days when those bookstores worked they were selling significant quantities of music and videos. Both of those markets have changed much more even than books, in that people now download or get from Netflix, so you don't need the space for that. They also usually have cafes which take up a certain amount of the space. I think that my size of a store is quite good for a book store, so the spaces that are being left by most of the Borders will be too big for many independent people to consider taking over that actual space.
Lucy Ann: Aren't you in a position where you might be able to expand and open up another location if you found the right size space?
Nicola: I wouldn't want to do it myself. I would be quite happy to talk to somebody and give advice to somebody else who was thinking about doing it. I would have thought that a bookstore in the downtown area, if properly managed, ought to be viable at a 5,000- to 8,000-square-foot size. I would have thought that there was enough foot traffic downtown that a bookstore could survive, but I don't think that I would want to do it. One of the things I learned when I had both book stores was the reason why my store has been able to survive is that people do know me and my staff and so there are certain customers that when they come in, they want to talk to Bill. There are certain customers that when they come in they want to talk to Jessie (Martin.) There are certain customers that want to talk to me and if I'm not there enough, then they feel kind of short changed. If I were to open another store, it wouldn't really be a Nicola's. It might be run and owned and managed by me, but there would have to be somebody else who was the key figure who had the personality of that particular store.
Lucy Ann: We've seen the demise of other bookstores in downtown Ann Arbor, too. Why?
Nicola: I think that each one had its own particular dynamics. When Shaman Drum went out that was because there were huge changes in the way that textbooks were being bought and sold. That business, which had been the mainstay for them -- sort of an invisible part of their business in that you didn't see it in the store but it was a very important part of their business model -- that all went online. Borders was really a lack of ability of the management to adapt to the changes that the book industry has created. If you compare them with Barnes and Noble, Barnes and Noble is not at their most successful right now but they are still there and they are run and owned by people who are still book people through and through. I think that's a huge difference.
Dean: It will be really interesting over the next year to see how your business increases.
Nicola: It should increase some. I've been following some of the talk on the AnnArbor.com site and there are certainly people who believe that Westgate is so far out of their way from downtown, that it takes several camels and many days of trekking to get there! You've got a lot of independent merchants like Big George's and Mast Shoes and Barry's Bagels, so it's a really nice little community on the west side there, but until you go to it and get used to it, you don't know what you're missing.
Lucy Ann: Are you in a position to hire some of the former people who worked at Borders?
Nicola: Well, I need to be very cautious. The business that used to be Borders, by no means will all of it come to me. Some of it will, but in order to keep my business model viable I have to be quite careful to balance my staffing requirements with the business as it picks up. If business were to pick up quite significantly, then I'm sure there are some people out there that I would be very foolish not to consider bringing on board. I think that within the next year I will certainly have a better feel because Border's has been an uncertainty in my business horizons for quite a long time that I knew that something had to change. The last thing that I want to do is to get overly ambitious and to expand too fast and then find that the market overall is contracting. I'm going to play it very carefully and just try to grow with it as the customers grow.
Lucy Ann Lance & Dean Erskine own Lance & Erskine Communications, which produces "The Lucy Ann Lance Business Insider" (M-F, 8 a.m.-11 a.m.) and "The Lucy Ann Lance Show" (Saturdays, 9 a.m.-12 p.m.) on 1290 WLBY. The programs are live streamed at www.1290WLBY.com, and podcast on www.lucyannlance.com. The above interview is a condensed version of a longer conversation that is edited for clarity. The complete audio interview is posted online at www.lucyannlance.com.