Posted on
Fri, Jul 19, 2013 : 7:36 a.m.
You've gotta keep smiling: Staying optimistic even when unforeseen circumstances complicate life on the farm
By Ruth Ehman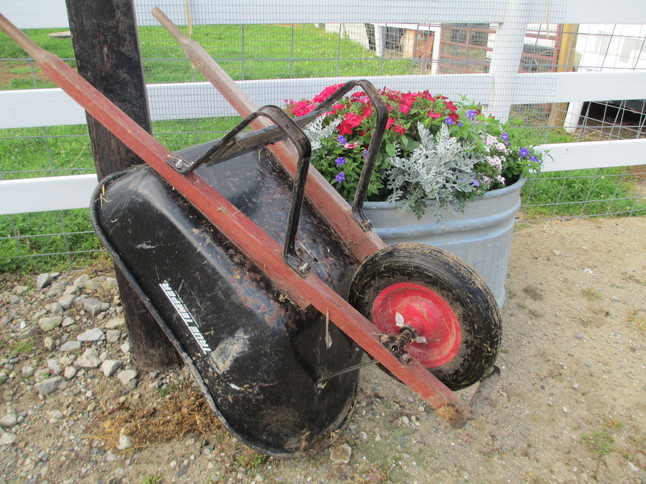 Ruth Ehman | Contributor
So a new wheel barrow will stay at the top of the "Need to Buy" list for a while longer.
I guess by now you know my penchant for lists. Along with the ever changing "To Do" list, complete with subheadings designating degree of importance, I also keep a capital expenditure list with its own priority columns. A new wheel barrow has been on "Need to Buy" alert since last year.
There is a difference between a "Need to Buy" and a "No Way Around It, Gotta Find the Money" item. Neither of which is to be confused with "Want to Buy" or "Gotta Have Dreams" purchases. These latter two are things like running water lines to the back pastures or erecting a greenhouse for the alligator to live in. Some practical, some whimsical, but all immaterial to the everyday operation of the farm.
The first two categories are the nuts and bolts of income allocation, second only to "fixed expenses" like mortgage and utilities in the budget. First dibs on cash goes to saving for recurring, known expenses and projecting for worst case scenario "oh CRAP!" events (the "No Way Around It, Gotta Find the Money" stuff); once a comfortable cushion is established for these actualities and possibilities, I can start picking away at the "Need to Buy" list.
And on that list resides a wheel barrow. Now a wheel barrow is actually an integral implement in farm operations and frequent use in a barnyard results in eventual death by natural causes. Again, don't confuse this eventuality with an "oh CRAP" incident like backing over the item with the truck. (Yes, I did that to one.)
My current wheel barrow is dying a natural death caused by exposure to the acids in manure; its bucket is rotting away. We could debate at length various life extending practices that I don't practice, but it won't change the fact that this wheel barrow is fast becoming unusable as a poop relocation vehicle. And I was going to buy a new one soon.
Then a lamb died.
Actually more to the scenario than the loss of one lamb, but suffice it to say this was the tipping point in the current budget. And to quote an old friend: "That's farming."
And this isn't really about a wheel barrow anyway.
So much of what we as farmers strive to control hinges on circumstances out of our control. Heat, cold, rain, drought, pestilence, and time constraints head that list with the vagaries of a fickle market and politics running a close second. Planning for tomorrow based on a today that scoffs at our agendas, we nonetheless soldier on with an optimism befitting Little Orphan Annie: "The sun will come up tomorrow."
I am frequently asked what I believe to be the single most important attribute to success as a farmer; my answer is optimism. Ya gotta believe the sun will shine when you need it, the rain will fall when you need it.
Pessimistic disbelief won't put seeds in the early spring ground with an eye towards the late summer harvest. Implicit to farming is a belief that those lambs happily grazing will turn a profit, the price of beef will hold, and your hay crop will fill the barn having been baled over the requisite stretch of dry, sunny days. Yes, we try to stack the deck in our favor with knowledge, experience and thoughtful planning, but it still comes down to faith and some good luck.
And of course we all come in for some bad luck now and then; optimism is never losing your faith. And that's what keeps us farming.
Ruth Ehman has been farming her 53 acres north of Dexter for 25 years. Recently retired from a "real job" she now makes her living producing "real food" including operating a dairy, and teaching others skills conducive to a small, diverse family farm lifestyle. Contact her at firesignfamilyfarm.com or ruthehman@live.com