Posted on
Sat, May 19, 2012 : 5:55 a.m.
6 tough questions that schools in Ann Arbor and Washtenaw County should answer
By Stephen Lange Ranzini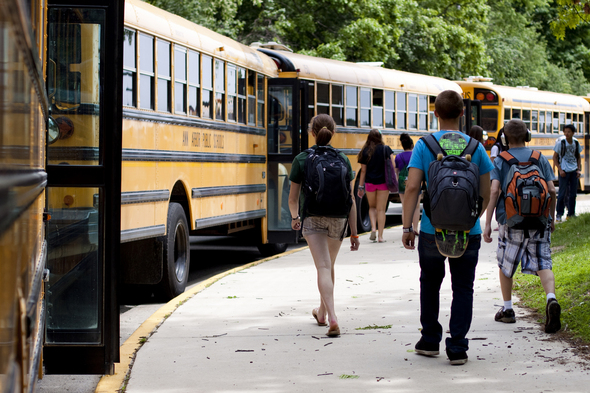 AnnArbor.com I Jeffrey Smith
New
U.S. News & World Report rankings
list Saline High School as #9 among Michigan's high schools, and #525 nationally. Pioneer and Huron high schools in Ann Arbor were ranked #19 and #20, respectively, among Michigan's high schools. Area citizens just
approved an increased millage
for Ann Arbor Public Schools to fund $45,855,000 in bonds to pay for various technology upgrades. So, are our schools doing well and it's time to relax?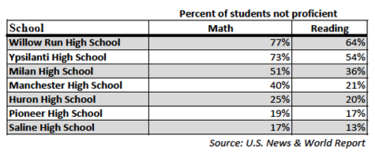 Currently, 21-23% of all children nationwide end up as functional illiterates as adults, with a higher proportion of children from low- and moderate-income families suffering that fate. Solving this problem, preventing additional children from being condemned to a lifetime of poverty and dependence, is critical to the future of our communities, our democracy and is perhaps the major social justice issue of our day.
Americans are skeptical of our K-12 schools, and rightly so. A recent poll indicates "that six out of 10 [Americans say] schools need either major changes or a complete overhaul... Only 5 percent of those surveyed thought the school system in the United States was working well… National statistics show that 68 percent of 8th-graders in the United States cannot read at their grade level and American students rank 25th in math and 21st in science compared to 30 other industrialized countries." Large majorities of voters clearly understand that education and job creation are inextricably linked.
Ann Arbor and area Washtenaw County schools, both public and private too, are actually falling far short.
Ann Arbor and area Washtenaw County schools, both public and private too, are actually falling far short. In 2011, 38% of 8th-graders failed the math MEAP test in Ann Arbor, and 70% statewide, 19% failed the reading MEAP test in Ann Arbor, and 39% statewide, and 64% failed the science MEAP test in Ann Arbor, and 83% statewide. In 2011, 46% of 9th-graders failed the social studies MEAP test in Ann Arbor, and 71% statewide. Is this
data
not a scandal?
There are many initiatives under way to improve our area public schools, but here are some tough questions about things that are not being addressed effectively, but should be:
1. President Obama's secretary of education says that the traditional long summer break hurts kids and the data is clear that it does hurt low- and moderate-income children. Why can't our local schools adopt a balanced calendar so that we can decrease the "failure to graduate rate" materially? Sure, it's not necessary for upper-income kids who have enrichment going on at home, but it typically isn't upper-income kids who are dropping out of school and ending up as adult functional illiterates. If you haven't already read it, pick up Malcolm Gladwell's recent #1 bestseller "Outliers." Chapter 9 has the most eloquent argument for ending the traditional summer break that I've ever read. Email me at ranzini@university-bank.com and I'll send you this chapter. There are many pearls of wisdom in "Outliers" that should be translated into action items on local school boards' "TO DO" lists.
2. Why don't our children go to school 9 a.m. to 5 p.m., the same hours that parents work? This would decrease many of the problems brought on by unsupervised latchkey kids and better train children for the workforce. Besides, studies show High School students perform better in school if they start later in the day because their biological clocks encourage them to sleep in, so why are they at school trying to learn before 8 a.m. and before even their parents are at work?
3. How much money does each school system spend each year on internal audits to ensure that the formal policies and procedures of the board and senior management are followed and not violated? Several recent scandals that exposed where over a million dollars was being lost each year by actions in violation of established policies indicate that some schools have a culture in place that ignores official policy and an ineffective system of controls and checks and balances.
For example, the AAPS was wasting $766,800 a year paying for employee dependents receiving health care benefits who were in actuality not eligible as legitimate dependents and AAPS was wasting $500,000 a year because the board policy on the distance between bus stops was being ignored by bureaucrats for years.
A strong internal audit would ensure that waste is caught timely, the board's key policies are followed, and that administrators are doing their job properly. Business leaders understand that a strong risk focused internal audit function in a large business is critical to their ability to trust but verify that what is happening throughout the organization is in line with expectations.
4. Consultants and administrative staff don't teach students, so are the trustees looking carefully at the need for all such expenditures? Many comments have been posted on AnnArbor.com over the years noting examples of waste in this area that have not been addressed. For example, why did the AAPS trustees vote raises to two top administrators despite a $14 million deficit? Good leaders cut their own salary and benefits when they ask for sacrifices from the rank and file (or taxpayers), not raise them. Many of the consultants in AAPS are hired out of a $5 million annual discretionary fund controlled by the superintendent that until recently the school board president wasn't even aware of. Why?
5. Why do school systems use bad instructional programs? For example, in the middle schools, AAPS uses Connected Mathematics, which the U.S. Department of Education rates as not just ineffective but actually harmful to student learning, based on peer reviewed scientific studies. The teachers know it's awful. The parents know it's awful. How come you don't act? How many other awful teaching programs are being used? Shouldn't these all be replaced before we buy technology to teach them? Shouldn't we be spending money on buying better teaching systems that work and then seeing if these need technology or not and specifically what technology to be effectively delivered?
6. What are you doing to explore shared services? For example, Saline Area Schools and the city of Saline have begun to discuss ways to cut costs and share services, including possible collaboration on building and grounds maintenance, sharing IT data centers and IT support services.
It will only be when the local public school districts address these issues raised and prove they are good stewards of the funds entrusted to them that I'll know you are seriously trying to educate ALL our children and not living in the past, replicating existing policy failures.
Addressing these issues is, I believe, actually the biggest social justice issue of our day. Is there one greater?
Stephen Ranzini is a resident of downtown Ann Arbor and president of Ann Arbor-based University Bank. He is a former community member of the AnnArbor.com editorial board. You may contact him at ranzini@university-bank.com.