Posted on
Sun, May 19, 2013 : 5:56 a.m.
AAPS budget crisis: As schools cut programs next year, community needs to see management of this year's deficit
By AnnArbor.com Staff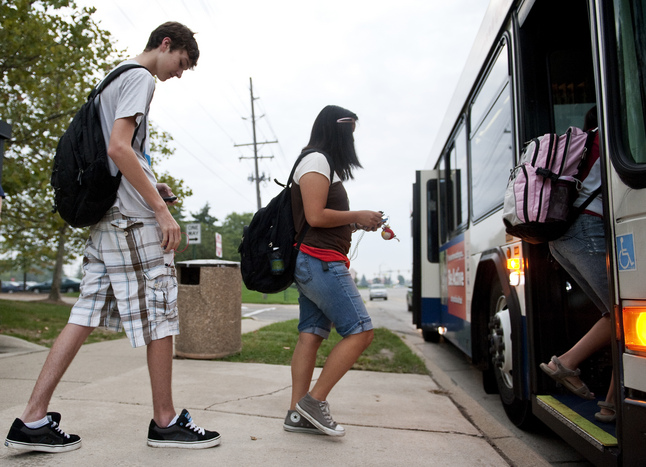 AnnArbor.com file photo
Cuts to the
Ann Arbor Public Schools
took another step forward last week as the school board agreed to trim $4.984 million from next year's budget.
That amount represents a portion of the $8.67 million deficit administrators and trustees are trying to eliminate from the 2013-14 operating budget that they need to approve by June 30.
The cuts — not final but appearing likely — touch many aspects of the district. Parents and students face several changes, if all of the cuts are finalized in June: No high school transportation. No middle school pools. Fee-based seventh-hour classes in high schools. And about 30 employees could lose jobs in that wave, including counselors, lunchroom aides and custodians.
Parents are expressing disappointment, fear and concern. We believe school board members share each emotion as they work on the front lines of the cuts, sorting through options and trying to avoid the most unsavory proposal of all: cutting 50 teachers, representing 32 full-time equivalent positions.
We also believe the community understands the budget situation facing schools and is prepared to engage in productive conversations about equitable and meaningful changes in the budget that preserve the educational quality in Ann Arbor.
However, we also believe that the community and schools will better survive the next budget crisis if all concerned can be assured that administrators and trustees are appropriately managing the current crisis.
One week before trustees indicated approval of the cuts now on the table, they learned that this year's financial deficit - projected at $2.5 million - had actually grown under administration's oversight by another $1.3 million by the end of March.
At the same time, the district faces borrowing for the first time in its history, as its fund balance dips below the amount needed to cover payroll during months when it awaits state funding.
Now — as the same administrators lead the budgeting process for the coming year and start to study redistricting, which could lead to the closing of buildings — the community is asked to trust that these proposed cuts truly are best for Ann Arbor schools.
Yet what do we know about how the district is managing the current situation? We've learned that Superintendent Pat Green is approving all purchase requests; a spending freeze was enacted in February; at least one cabinet-level administrator won't be replaced.
On the other hand, some community members see that it's only now that the district's $70,000 catering budget for meetings is proposed to be cut — for next year.
That's one small piece of the budget, but an indication that the community is right to raise questions about spending decisions — and the pace of budget analysis and reaction to it in the district. Just ask the students and parents at Roberto Clemente, a school that's been threatened with uncertainty annually since 2010.
The cuts that this community was asked to accept as near-fact last week should be preceded by a full-bore, district-led battle — waged in public, with frequent reporting to staff, parents and residents — to cut this year's deficit.
The spending freeze started months ago, the deficit got worse and it's now mid-May.
The public doesn't have the information to know where we stand this year. And, based on recent reports, we don't know if the district knows.
Even school board trustees express concern: "I am increasingly frustrated by having these budget adjustments come along six months after the fact," Andy Thomas said after a recent meeting.
This community cares deeply about its public education. We believe it wants to rally behind the district and is willing to sacrifice for its schools.
But Ann Arbor residents won't settle. And when we don't see a strong, unified response to this year's budget crisis, we're left to question whether we can trust the plan to solve the one headed our way next year.