Posted on
Tue, Oct 26, 2010 : 9:48 a.m.
AATA needs everybody's input on developing master plan
By Guest Column
The Ann Arbor Transportation Authority (TheRide) is in the middle of 20 critically important public meetings that are being held across Washtenaw County throughout the month of October. These meetings will go a long way in developing a first-ever comprehensive Transit Master Plan - an initiative we're calling Moving You Forward - which will help Washtenaw County meet its needs today and three decades from now.
With a little less than a week left to go in October, now is the time to make sure your voice is heard as TheRide aggressively seeks community feedback and input on how best to fashion a long-term transit plan that pays special attention to future economic growth, protecting the environment and public health, and assuring a high quality of life for all county residents.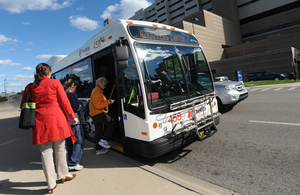 The meetings are designed to gather clear insights on what residents throughout the 720-square-mile county want their local communities to look like in 30 years and how public transit options can best help transform those visions into reality.
For a variety of reasons it simply makes sense for citizens - including those who don't take advantage of public transit options - to proactively get involved by attending and participating in one of these public meetings that are being held at various times and at convenient locations throughout the month.
Let's start with traffic congestion. Washtenaw County is home to about 350,000 residents and its population is expected to grow by 38 percent over the next two decades. Further, those over age 65 now make up 10 percent of the county population and the senior population is expected to mushroom by 162 percent in Washtenaw County townships by 2020.
Without a well thought out public transit plan that growth could serve to further add to congestion and traffic delays (think U.S. 23 during rush hour but on local roads), a dearth of parking spots, a loss of green spaces and declining air quality, and mounting headaches and frustration for commuters.
AATA has been the area's leading public transit entity for more than 40 years. Manchester Senior Services, WAVE and People's Express have also helped fill the need for public transportation. But the fact is that Washtenaw County lacks a comprehensive transit system that connects all of our communities together. This patchwork approach has left many areas of the county with no public transit access at all - even to seniors and those with disabilities.
The Moving You Forward Transit Master Plan aims to help resolve this situation. By early next year - after more than 60 public meetings, hundreds of one-on-one interviews and an unprecedented community outreach effort - the Transit Master Plan will be released and will serve as the blueprint for the future of the entire county. The focus will then immediately shift to identifying the necessary steps to make the plan a reality.
We encourage all Washtenaw County residents, business owners, government leaders, students, commuters and all other stakeholders to visit www.MovingYouForward.org to find a public meeting in their area. For those who cannot attend a meeting, the website has a Transit Master Plan game that will allow residents an interactive option for providing feedback on the future of transit for our area.
Whether in-person or online, it's our county, our future and we need everyone to get involved. Michael Ford is the chief executive office of the Ann Arbor Transportation Authority.