Posted on
Sat, Jun 23, 2012 : 5:59 a.m.
How U-M helped free imprisoned man falsely convicted of killing his family
By Lucy Ann Lance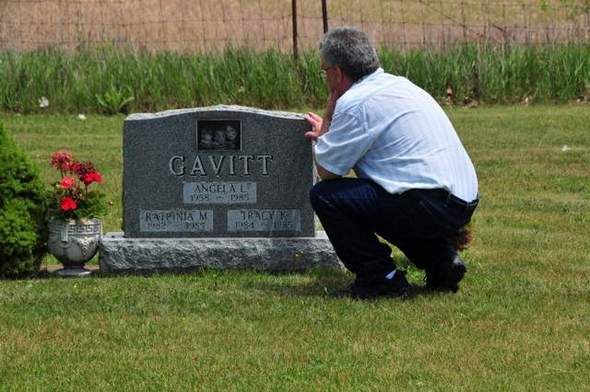 John Masson | University of Michigan Law School
David Lee Gavitt
spent half of his life in prison wrongfully convicted for the murder of his wife and two children who died in a house fire in Ionia, Mich., in 1985.
After 26 years in prison, the 54-year-old was exonerated and freed earlier this month, thanks to the University of Michigan Law School's Innocence Clinic.
Clinic co-director David Moran estimates that 3 percent of all prisoners are innocent of the crimes for which they are convicted. That would represent about a thousand prisoners in Michigan.
In an interview on 1290 WLBY, Moran said the first place that Gavitt asked to go after his release was to the cemetery where his family is buried.
Lucy Ann: What was that moment like?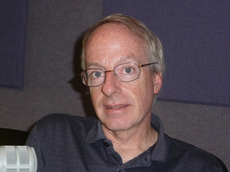 Moran:
We were all standing in that cemetery for actually close to two hours. It was a very emotional scene. For the first 45 minutes, Mr. Gavitt just stood by the grave, he knelt at times by the gravestone, and it was very silent and very somber. That was his request as soon as we walked him out of the prison that we drive to the cemetery, because he had never been to the gravesites of his wife, Angela, and his two little daughters.
Lucy Ann: What happened on the day of the fire?
Moran: In the late 1980s, 25 percent of all house fires in the United States were called arson and today that number is about 6 percent. Thousands of fires that were called arson back in the 1980s would no longer be called arson today because we have a much better understanding of the fire science. On March 9, 1985, David Gavitt was at home with his wife, Angela, and his two young daughters, ages 3 and less than a year. After they put the girls to bed, David and Angela were watching TV. They were smoking, they had candles lit, and then they went to the bedroom. They heard the dog scratching the door and David opened the door and there was an inferno going on in the house. He ran across the hall and broke a window to create an escape route, which in retrospect probably made things worse, it created a draft. Angela ran down the hall toward the nursery where the girls were. Then David ran to the nursery after he had broken the window to create an escape route…and he couldn't make it to the nursery. He got out the window he broke, wearing only jeans, no underwear, no socks, no shoes, no shirt, in the snow outside, badly lacerated from the window and had second degree burns over much of his body. He went around the house, leaving a blood trail, and the neighbors arrived and were physically holding him down as he was trying to fight his way back into the burning house. He was so badly burned and lacerated that he spent weeks in the hospital.
***
The arson investigation showed burn patterns inside the house appeared to indicate arson, but modern fire science now disproves that. A fire science expert told the clinic it was caused by a flashover, which occurs when toxic gases burst into flames in a closed room. It also has been determined that a Michigan State lab technician botched a test that he said showed there was gasoline on the carpeting.
***
Moran: The fire examiners at the time concluded that this fire had been intentionally set in the living room, even though there were obvious sources of ignition in the living room - the candles lit, cigarettes burning in the ashtray and a large dog to knock them over. No motive in this case. This was a happily married couple. No life insurance. But just based on this forensic evidence at the time, he was convicted and sentenced to three counts of first degree murder to life in prison without parole.
Lucy Ann: Technology has changed and you were able to determine what actually happened.
Moran: Our students, especially Max Kosman, Imran Syed and Caitlin Plummer, developed this case and we sent it out to the experts to say, with all of these photographs of the scene, would you call this arson today? The answer was no, this was more likely to be an accidental fire. Remember those gas chromatographs that supposedly show gasoline on the carpet? We got those original gas chromatograph charts from the Michigan State Police and we sent them to the top gas chromatograph people in the country. They told us that there was absolutely no gasoline in any of these seventeen charts. We presented all of this information to Ionia County prosecutor Ron Schafer last summer 2011 and said here's everything we have, we want you to take a look at it, and to his great credit he was willing to do that.
Lucy Ann: How did his case get the attention of your students?
Moran: Like thousands of others, he sent us a questionnaire. We have a nineteen-page questionnaire on our website where we ask all sorts of questions. We were on the lookout for arson cases because we knew based on the change in fire science that there would be people in prison who had been convicted of arson and arson murders from before the science changed, and who were wrongly convicted.
Lucy Ann: If Michigan had a death penalty, is it likely that someone like Gavitt could have been put to death before this technology had changed?
Moran: Entirely possible. It's the kind of case that would tug at the heartstrings. You have two little girls dead, and a woman dead, so it is entirely possible that this could have been a death penalty case. There was a death penalty case very similar to this in Texas, Cameron Todd Willingham. The house burned very fast, his children died, and the same bad arson science was applied. He was sentenced to death and was executed about eight years ago, even though new reports had been done showing that there was actually no evidence of arson. (Governor) Rick Perry, who ran for president last year, was heavily criticized for his refusal to stop the execution despite the new evidence. There's a Texas forensic science commission which has been looking into the case.
Lucy Ann: What is David Gavitt's life going to be like now?
Moran: He's working to put it together. While we were at that cemetery, 20 members of his extended family showed up - his two sisters, one of whom lives here in Ann Arbor, his aunt, his stepmother, cousins, nephews, nieces - so he has a strong and supportive family. He also now has a girlfriend and he's staying with her. He has a job offer as a landscaper and is going to start working soon.
Lucy Ann: He's rebuilding his life.
Moran: He is rebuilding his life and there's a network of exonerees who are going to help him. There are literally hundreds of exonerees around the country who are there for each other. When a new exoneree gets out, they try to help them through the experience.
Since it began three years ago, the Michigan Innocence Clinic has exonerated six people, who among them served a total of 84 years in prison. For more information, visit www.law.umich.edu/innocenceclinic. Listen to the complete interview with David Moran at www.lucyannlance.com.