Posted on
Fri, Jun 14, 2013 : 9:10 a.m.
And the thunder rolled... Nature's display has inspired many artists
By Ruth Ehman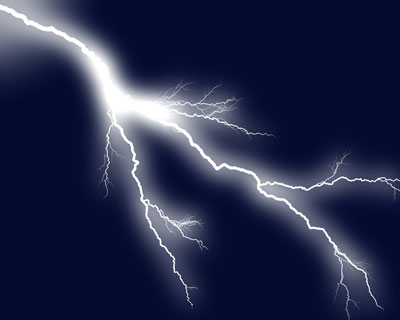 photo from science.howstuffworks.com
Incredible as it seems I know there are people who actually can sleep through a such as passed through here Wednesday night. But why would you want to?
At its most prosaic a thunderstorm is merely warm moisture laden surface air rapidly rising and colliding with cooler higher altitude air masses. The resultant turbulence creates build ups in pressure and temperature which are periodically released as the electrical charges we call lightning. The immense air pressure and temperature increase from lightening in turn causes rapid expansion of the surrounding air creating the sonic shock waves we call thunder. This is what I recall from high school science class.
I also remember learning how the energy released during this process shatters nitrogen molecules in the air and enables the atoms to combine with oxygen to produce nitrogen oxides which then dissolve in rain forming nitrates. This same rain carries the nitrates to the soil in a form where they can be utilized by plants as a key requirement for vegetative growth. Which is why farmers welcome a vigorous thunderstorm; our fields and gardens are both watered and fertilized in the course of its passing.
But there is more to a good thunderstorm than mere botanical reward. Literary inspirations abound as in Virgil's "in the midnight of the storm clouds, he wields his bolts with a flashing hand" or in Heathcliff's departure as "the storm came rattling over the Heights in full fury" from Emily Bronte's classic novel. Thomas Hardy uses a storm to set the stage for his tale of missed opportunity in "A Thunderstorm in Town" and a raging storm is the perfect embodiment of strong emotion in Emily Dickinson's superbly rendered poem "The Wind Began to Rock the Grass"
How would the ancient Norsemen have explained Thor's power without his thunderous hammer? What self respecting depiction of Odin or Zeus is complete without lightning bolts? How could Garth Brooks bemoan infidelity without the thunder to roll? And you might insist Tchaikovsky's 1812 Overture was inspired by Russia's military defense against the invading Napoleon but I know a good storm when I hear one!
So you see, by getting up at midnight, wrapping yourself in a blanket, and sitting out under the porch overhang to watch a thunderstorm you are doing much more than just passing the time until it's quiet enough to sleep again. You are occupying a front row seat at one of nature's most miraculous displays while rubbing elbows with some of the greatest authors, poets, mythologists and composers of all time.
Ruth Ehman has been farming her 53 acres north of Dexter for 25 years. Recently retired from a "real job," she now makes her living producing "real food," including operating a dairy, and teaching others skills conducive to a small, diverse family farm lifestyle. Contact her through firesignfamilyfarm.com or at ruthehman@live.com.